The very second the temperature starts to dip, the air becomes crisp, and I spot the first leaf falling from a tree I start making plans to cook chili. When I think of fall, I think of a big pot of chili simmering away on the stove and the scent of tomatoes and spices filling the whole house. Several weeks ago I made this 3 bean simple veggie chili recipe, scribbled out recipe notes as I cooked, and then tucked it away to share with you all this week.
Chili not only makes me think of fall, but it makes me think of Halloween. When I was little, I'd come home from school on Halloween filled with excitement to change into my costume (most likely a hand-me-down from my 3 older siblings) and start knocking on doors for candy. Before heading out the door, we would sit around the table and enjoy big bowls of chili – and apparently, we're not alone in this tradition.  It makes sense that my mom would always prepare a pot of chili on Halloween; it's easy to throw together, can be made ahead of time, and it's warming for a late-October evening trick or treating.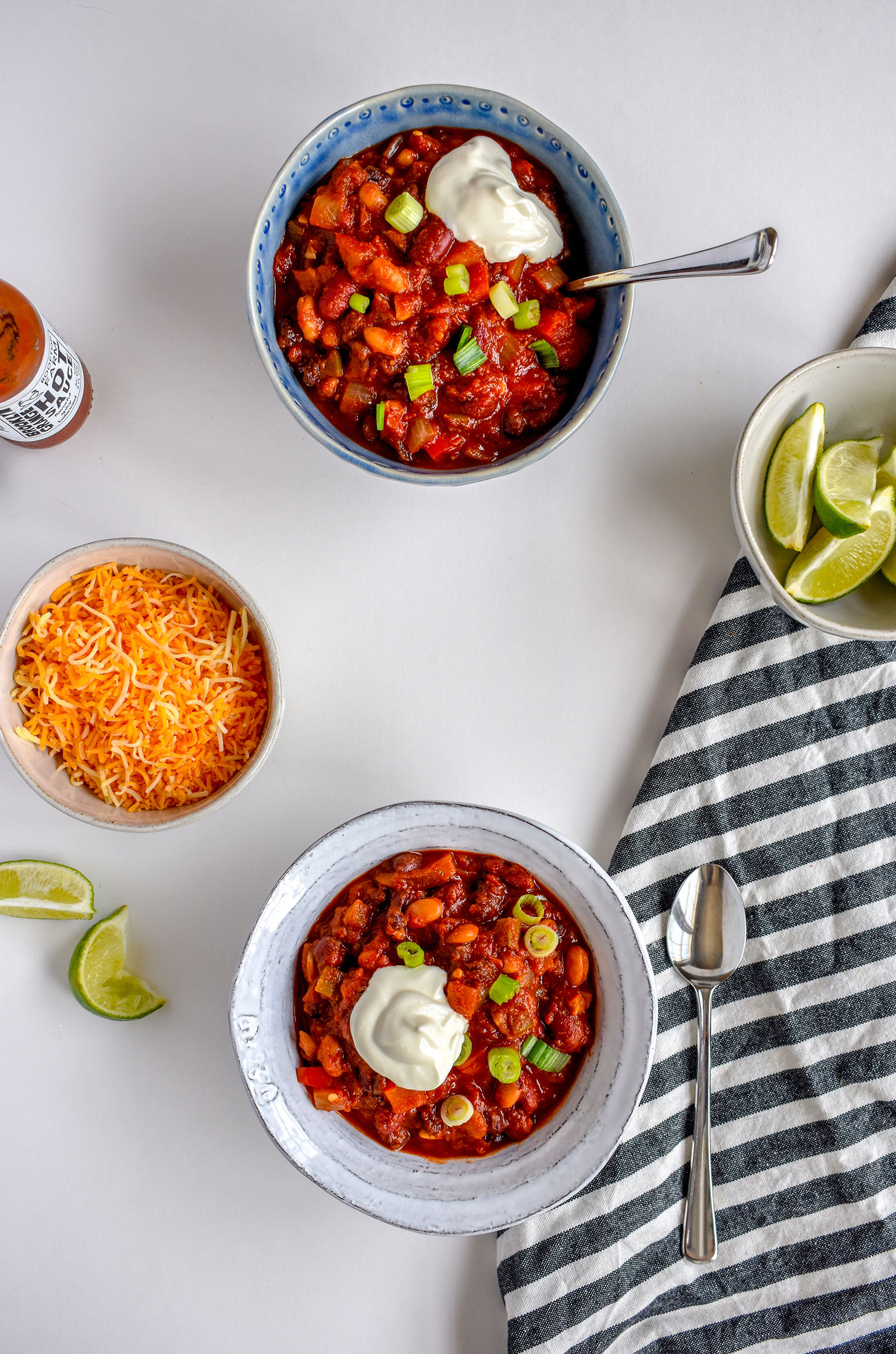 There are certain foods that people are very particular about and have very strong views on. BBQ comes to mind as being one of those foods. And chili is another one. I find that, for many people, your chili preference and what goes into the pot is based on where you grew up, as well as how your parent cooked it. I grew up with a very simple no-frills chili and that's exactly how I like it today. I firmly believe that sweet potatoes, as much as I love them, do not have a place in chili. And the same goes for corn. Both ingredients were left out of the chili I grew up eating and when it comes to chili, I stick to my roots.
This 3 bean simple veggie chili is simple, hearty, a bit spicy, and full of flavor. Packed with pinto, black, and kidney beans this chili sticks to your ribs and will keep you full. Serve in bowls and pass shredded cheese, sour cream, sliced green onions, and hot sauce around the table.
Enjoy with a cold beer and cornbread.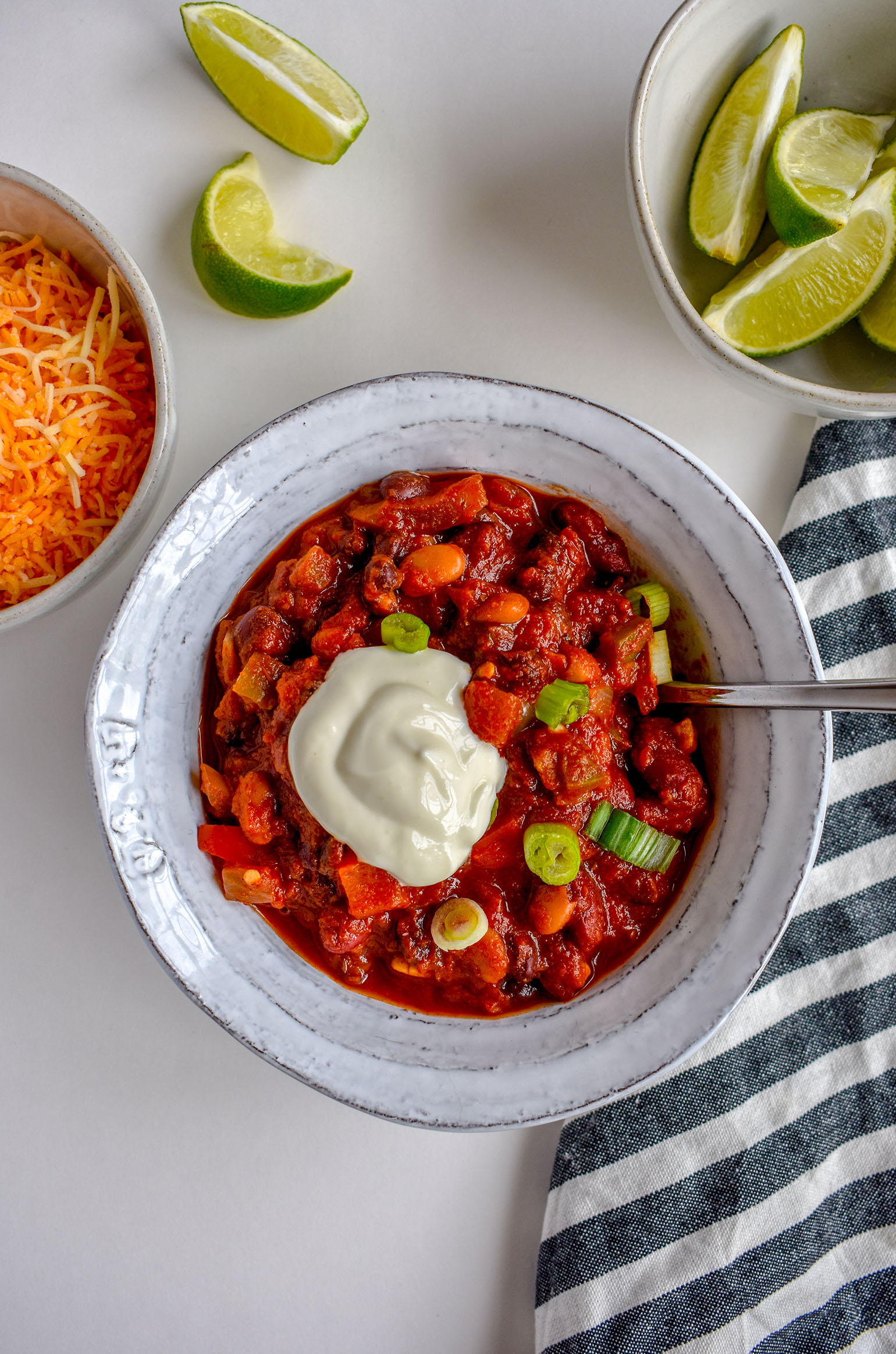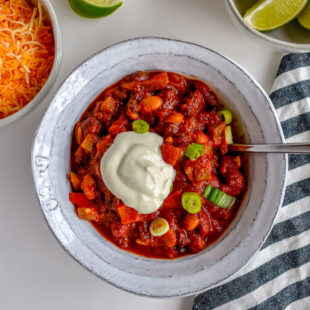 3 Bean Simple Veggie Chili
A deliciously simple and flavorful 3 bean simple veggie chili. This is a go-to chili. The simple one where you throw everything in a pot and go fold clothes or play with your cats.
Course:
Dinner, Entree, Main Course, Soup
Ingredients
1

Tbsp

olive oil

1

large

yellow onion, chopped

3

cloves

garlic, minced

2

jalapeños, seeded (optional)

1

red bell pepper, seeded and chopped

2

Tbsp

tomato paste

1

28 oz

can crushed tomatoes

1

cup

water

3

Tbsp

chili powder

1

tsp

ground cumin

1

tsp

dried oregano

1/4

tsp

cayenne powder (optional)

1/2

tsp

sugar

1

tsp

salt

1

14 oz

can pinto beans, drained and rinsed

1

14 oz

can kidney beans, drained and rinsed

1

14 oz

can black beans, drained and rinsed

1/2

lime, squeezed
Instructions
In a large pot, heat the olive oil over medium heat. Add the chopped onion and a pinch of salt. Saute onion until translucent, about 5 minutes. Add garlic and saute for 30 seconds.

Add jalapeño and bell pepper to the pot and saute until peppers are softened about 5 minutes.

Stir in the tomato paste, crushed tomatoes, and water. Add the chili powder, cumin, oregano, cayenne if using, sugar, and salt. Stir to combine. Add the beans and bring chili to a boil. Lower to a simmer and cook for 20 minutes stirring occasionally.

Just before serving, add the lime juice and taste for seasoning, adding more salt or lime juice as desired.

Dish chili into bowls and pass shredded cheese, sour cream, sliced green onions, and hot sauce around the table.
Notes
I love spicy food, and I seeded 1 of the 2 peppers, added the cayenne pepper and this chili had a good kick to it. If you don't enjoy spicy food, omit the cayenne pepper and seed both jalapeño peppers.