"Local food is a handshake deal in a community gathering place. It involves farmers with first names, who show up week after week. It means an open-door policy on the fields, where neighborhood buyers are welcome to come have a look, and pick their food from the vine. Local is farmers growing trust."
This post may contain affiliate links. Please read my disclosure for more info.
Have you ever read a book that aligns so perfectly with your views and personal beliefs that the only thing you can say to someone to recommend the book is, "pick up a copy and read it yourself"? That's exactly how I feel about Animal Vegetable Miracle by Barbara Kingsolver.  This book has been on my virtual bookshelf, in my Amazon cart, and pinned on a "books" board on my Pinterest for far too long. It's been recommended to me by countless people and I'm glad I finally turned the first page, and I regret waiting so long to dive in.
The jacket on the book tells part of the story, Kingsolver and her family move from Tucson to a farm in Virginia to eat locally, live off of their land, and learn to live without the food they could not grow, make, or find locally for a year. As a reader, you experience what life is like and what your plate looks like living one growing season at a time. For most of us, every food, as well as food-like-item we could ever want is right at our fingertips at a grocery store less than 2 miles from our homes.
Tomatoes in December? Of course. Strawberries in February? Sure.
Kingsolver dissects and repeatedly comments on the amount of fuel used to transport delicate produce around the world to meet the human craving for out-of-season fruits and veggies. Food is political and while this book was published 11 years ago, the issues surrounding our food system and local farmers that are discussed are as relevant, or even more so, today.
The family's goal was to live as close to the earth as possible, but never to strive for perfection. A small crate of tangerines, a commodity not grown locally in Virginia, was a holiday splurge and upon watching her daughter delicately peel and savor the fruit, Kingsolver writes a favorite quote of mine from the book:
"Value is not made of money, but a tender balance of expectation and longing."
More than ever, I'm embracing eating seasonally and locally and I'm coming to understand the longing for both fruits and vegetables I'll have to wait another year to enjoy. This book reaffirmed my desire and dream to own and live off of my land and to support local farmers in whatever else it is I need. The challenge of working with whatever foods are currently ripe, seasonal and being harvested is something I enjoy and look forward to doing more of.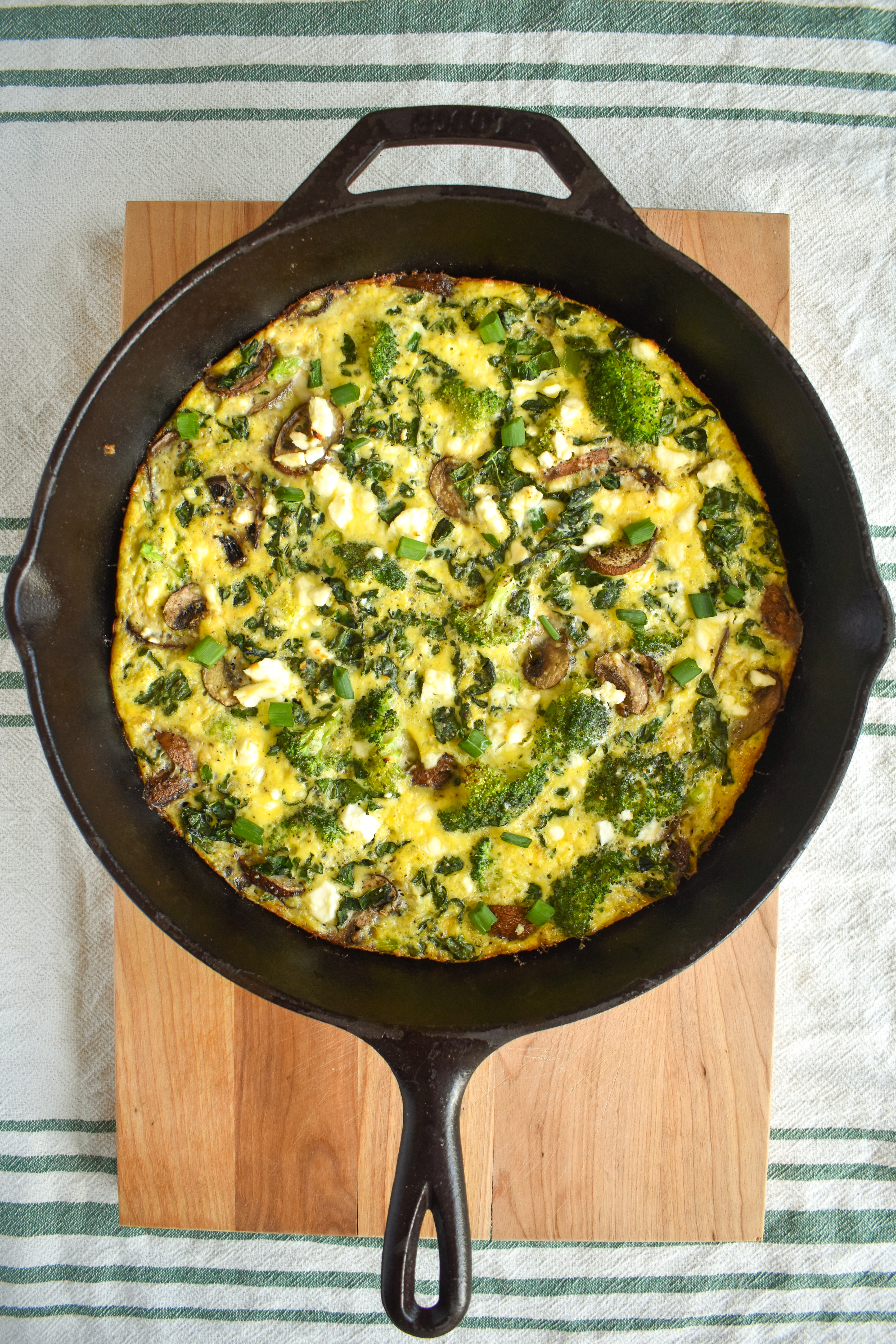 Woven throughout each chapter of the book are recipes created by Camille, Kingsolver's daughter. Many of the recipes sound delicious,  but I was drawn by the simplicity and the seasonal versatility of the veggie frittata. All of the recipes from the book can be found here, frittata included. For my veggie frittata, I used a combination of kale, mushrooms, and broccoli florets and I plan to adapt the recipe as the season's change.
I highly recommend reading  Animal, Vegetable, Miracle and you can buy it here.
"From the ground up, everything about nourishment steadies my soul."