Today is my husband Chris' birthday and I'm not going to tell you how old he is, but let's just say that it's a big birthday we're celebrating over here. We spent this past weekend eating all of his favorite foods, blowing out candles, and simply celebrating another trip around the sun. Neither of us loves cake, so for his birthday, I created this marbled Nutella banana bread recipe because I have never known someone to love bananas as much as my husband.
I have always loved birthdays and I'm a firm believer that you should do whatever it is you want on your day. For my birthday several years ago, I took the day off of work and spent my birthday reading books in the aisle of a bookstore and eating pastries. It was an excellent day and I spent it doing exactly what I wanted. I'm pretty sure if my husband could spend his day doing whatever he wanted it would involve sleeping in, banana ice cream with Kit Kats, driving a Porsche, and eating hot wings. While I can't say we checked all of those things off of the list, it was a birthday to remember and we still have an upcoming trip to Canada to continue the celebration.
Nutella wasn't introduced to me until I was in middle school.  I remember hearing about this delicious chocolatey-nutty spread in French class and tracking it down at the grocery store. I've said it before but I didn't love peanut butter growing up (crazy, I know), but the thought of adding this Nutella stuff to pancakes, waffles, and, you guessed it, banana bread was incredibly appealing.  Nutella isn't an ingredient I tend to keep on hand, although I'm not going to lie and tell you I haven't enjoyed having a jar around lately. I may or may not have found myself occasionally sneaking small spoonfuls of the good stuff.
This marbled Nutella banana bread recipe is all things good banana bread should be; perfectly moist with a deliciously sweet banana flavor. Nutella and banana are the perfect flavor combination and by swirling the 2 together, you get a bit of both with each bite. Don't be intimidated by the marbled appearance, it's simple and results in a pretty loaf.
Enjoy a warm slice of this marbled Nutella banana bread with additional Nutella spread on top for both breakfast and dessert.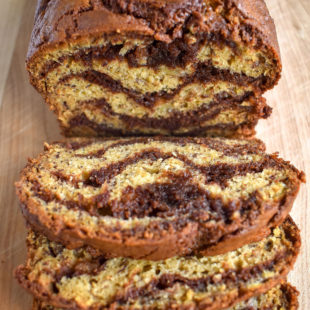 Marbled Nutella Banana Bread
This marbled Nutella banana bread is the perfectly moist and delicious banana bread we all love, with the addition of a tasty marbled Nutella swirl.
Course:
Breakfast, Dessert, Snack
Ingredients
3

(282g)

ripe bananas

3/4

cup (112g)

light brown sugar

1

stick (8 Tbsp)

unsalted butter, melted and cooled

1

tsp

pure vanilla extract

2

eggs, room temperature

1 1/2

cups (182g)

unbleached all-purpose flour

1

tsp

baking soda

1/4

tsp

salt

1/2

cup (167g)

Nutella
Instructions
Preheat your oven to 350 degrees F and line an 8 1/2" x 4 1/2" loaf pan with parchment paper.

In a large bowl, mash the bananas with a large fork until smooth with only a few clumps remaining. Add the brown sugar, melted and cooled butter, vanilla, and eggs to the bowl. Stir mixture with a fork until just combined.

Add half the flour, baking soda, and salt to the banana mixture and stir until most of the flour is no longer visible. Add the remaining flour and stir until combined, be careful not to overmix.

Remove 3/4 cup (188g) of the banana bread batter from the bowl and pour it into a small mixing bowl. Add the Nutella to the small bowl and stir to combine.

Spoon a thin layer of banana bread batter into the prepared loaf pan. Add a layer of the Nutella banana mixture on top and continue alternating the layers until you've run out of both batters. Using a sharp knife, draw 2-3 figure 8's along the top of the loaf to create your marbled effect. If you do too many, the swirls will appear muddled.

Bake the banana bread for 60 minutes or until a toothpick comes out clean. Let rest in the pan for 10 minutes before turning out on to a cooling rack to cool completely before slicing.