When I decided to do a monthly product review for the blog, I knew that I wanted to feature a hot sauce company. You could say that I'm a bit of a hot sauce addict in the sense that I have a cabinet full of various bottles and rarely enjoy a meal without some sort of spice. There's a lot of hot sauce on the market, like A LOT, but similar to my product reviews for Diaspora Co. and Basbaas, I wanted to feature a hot sauce company that's doing something different, something bigger.
Growing over 50,000 lbs of vegetables annually on over 2 acres of rooftop space cultivated for farming in New York City, Brooklyn Grange operates the world's largest rooftop soil farms. Far more than just a hot sauce company, they produce fresh fruit and vegetables for their community, they run an apiary with beehives spread throughout the city, and they also have egg-laying hens.  Using peppers and herbs grown on the rooftops of New York City, Brooklyn Grange makes and sells 2 really tasty hot sauces that have quickly become staples in my kitchen.
"We believe that food should taste fresh. At the end of the day, that's what it's all about: sitting down with our farmily, admiring that sunset over the city skyline, snacking on a perfectly ripe, sweet tomato and remembering, this is what real food is."
Rooftop farming is upending the idea that in order to be a farmer, one has to move away from the city and invest in numerous acres of land. Brooklyn Grange sells their produce to restaurants, a CSA, and to their local community via a  farm stand. Partnering with the local nonprofit, City Growers, they help educate children on urban gardening, growing food, and the importance of honey bees.
The 2 hot sauces that Brooklyn Grange produces are equally delicious, yet distinctly different in flavor. Herbs, a kick of pepper, and a balanced bit of sweetness are the initial flavors of the green sauce. The red sauce is a bit smokier and a bit sweeter with a little less heat. Between the 2, if I had to choose, the green sauce is my favorite and by far the best green hot sauce I've tasted. I love a hot sauce that has a great, complex flavor but that's versatile. These sauces are exactly that and can easily be added to anything from chili to jambalaya and enchiladas to chana masala. Since adding these 2 sauces to my collection, I've enjoyed the red sauce on tacos and poured over my favorite falafel salad, and using the green sauce, I created a creamy green gazpacho recipe that's spicy and perfect for summer.
The first time I ate gazpacho I remember thinking, "I feel like I'm eating a bowl of salsa", and really, it's not too far off. It took me a few years to fully appreciate and enjoy a bowl of perfectly seasoned, chilled gazpacho on a hot day. Now, if I spot it on a menu I order it, without a doubt. I wanted to make a recipe that highlights the flavor profile of Brooklyn Grange's green hot sauce and this creamy green gazpacho is a near perfect match.
The key to making a really great gazpacho is in the balance of salt, acid, heat, and sweet. In this recipe, the naturally tart tomatillos are broiled to enrich their flavor and the addition of cilantro helps to balance out the remaining tanginess, the cucumber adds a refreshing hint, while the peppers, along with the hot sauce bring just the right amount of heat. Bread is blended in with the soup as a thickener, and yogurt adds a creaminess that brings everything together. Serve this gazpacho chilled and top it with a drizzle of good olive oil and homemade croutons.
Read more about Brooklyn Grange rooftop gardens and hot sauce here.
Buy Brooklyn Grange hot sauce here.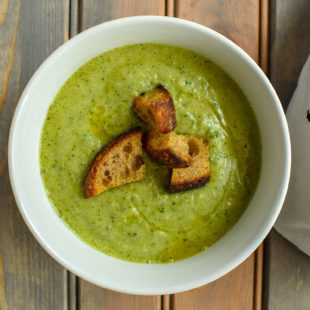 Creamy Green Gazpacho with Homemade Croutons
This green gazpacho is creamy and full of flavor. Packed with roasted tomatillos, cucumber, peppers, herbs, and Brooklyn Grange hot sauce, this is the perfect dish to cool you off on a hot, summer day.
Ingredients
Croutons
2

cups

day-old bread, torn into bite-sized pieces

1

Tbsp

olive oil

pinch

each sea salt, fresh ground pepper
Gazpacho
3/4

lb.

tomatillos, husks removed

2

garlic cloves, peeled

1/4

large yellow onion, roughly chopped

1

English cucumber, roughly chopped

1

poblano pepper, seeded and roughly chopped

1

serrano pepper, seeded (optional)

1/4

cup

cilantro

1/4

cup

parsley

1

slice of day-old bread, roughly torn and hard crust removed

1

tsp

sugar

2

tsp

Brooklyn Grange green hot sauce

1 1/2

tsp

red wine vinegar

1

Tbsp

olive oil

1 1/2

tsp

sea salt

1/3

cup

plain Greek or Icelandic yogurt, whole milk preferred
Instructions
Preheat oven to 350 degrees F and line a baking sheet with parchment paper or a reusable mat. Prepare the croutons by combining the bread, olive oil, salt and pepper in a medium bowl. Toss to coat the bread entirely and spread on the prepared baking sheet in a single layer.

Bake croutons for 15-20 minutes, until crisp and golden. The croutons will harden as they cool, so try not to let them get too firm in the oven. Remove from the oven and set croutons aside on a plate to cool.

Carefully position an oven rack on the highest level and turn the heat up to broil. Arrange tomatillos on the same parchment-lined baking sheet and broil for 7-10 minutes, until softened with a bit of char on the skin. Remove from the oven and set aside to cool.

Place all of the gazpacho ingredients up to and not including the yogurt, into the bowl of a food processor or high-powered blender. Pulse mixture until ingredients are finely chopped. Now process the gazpacho until smooth, stopping occasionally to scrape down the sides of the bowl and to taste for salt, additional hot sauce, or vinegar.

Once smooth, add the yogurt to the gazpacho and run the food processor until everything is combined. Season to taste once again.

Store the gazpacho in an air-tight container or jar in the fridge and let chill for at least 4 hours before serving.

To serve, top chilled gazpacho with homemade croutons and a drizzle of olive oil.
Notes
The Brooklyn Grange green hot sauce I use here is more flavorful than super spicy, I highly recommend it, but definitely use whatever you have on hand. Just remember to adjust the spice from the peppers accordingly.