We all have that one thing that we see on a menu and no matter what you were planning on ordering or what you thought you wanted, you're now getting whatever that one menu item is. For me, that one thing is red curry. It is my comfort food of choice. I can't tell you how many times I've been dead set on getting something at a restaurant, and it immediately goes out the window the very second I see they have red curry. This butternut Thai red curry with vegetables is packed with my favorite Thai flavors, loaded with veggies, and it has a fun, seasonal twist.
My love for red curry (or just Thai curries in general) and what draws me to repeatedly order this meal is how perfectly balanced the flavors are. If made well, a red curry is perfectly spicy, not too sweet, creamy, and with the perfect amount of acidity. Served with crisp veggies, fluffy rice, and extra chili sauce and I am a happy lady. I went the untraditional route with this recipe in that I chose to utilize the creaminess of roasted and blended butternut squash for the base of my red curry. 'Tis the season. Mixed with coconut milk for the flavor, fat, and additional creaminess, as well as a bit of lime juice for acidity and this red curry is everything my belly loves.
We have a bit of a squash/sweet potato situation at our house. Basically, I absolutely love squash and sweet potatoes and my husband does not. To say the very least. So I find sneaky ways to add squash or sweet potatoes to meals and maybe 2-3 times a year I serve a meal where there is no hiding what it is. Maybe subconsciously the goal here was to sneak one of my favorite fall vegetables into this recipe, but really, the creaminess that the blended butternut squash adds to this recipe is undeniably perfect. Butternut squash hater or not.
This butternut Thai red curry with vegetables is packed with flavor. The combination of roasted and blended seasonal butternut squash with red curry paste, coconut milk, and lime make this meal delicious and brings Thai flavors into your kitchen. Broccoli florets and red bell pepper help to round out this colorful meal. Serve with a side of brown rice and garnish with cilantro, lime wedges, and Sriracha.
Enjoy this butternut Thai red curry with friends and a cold lager.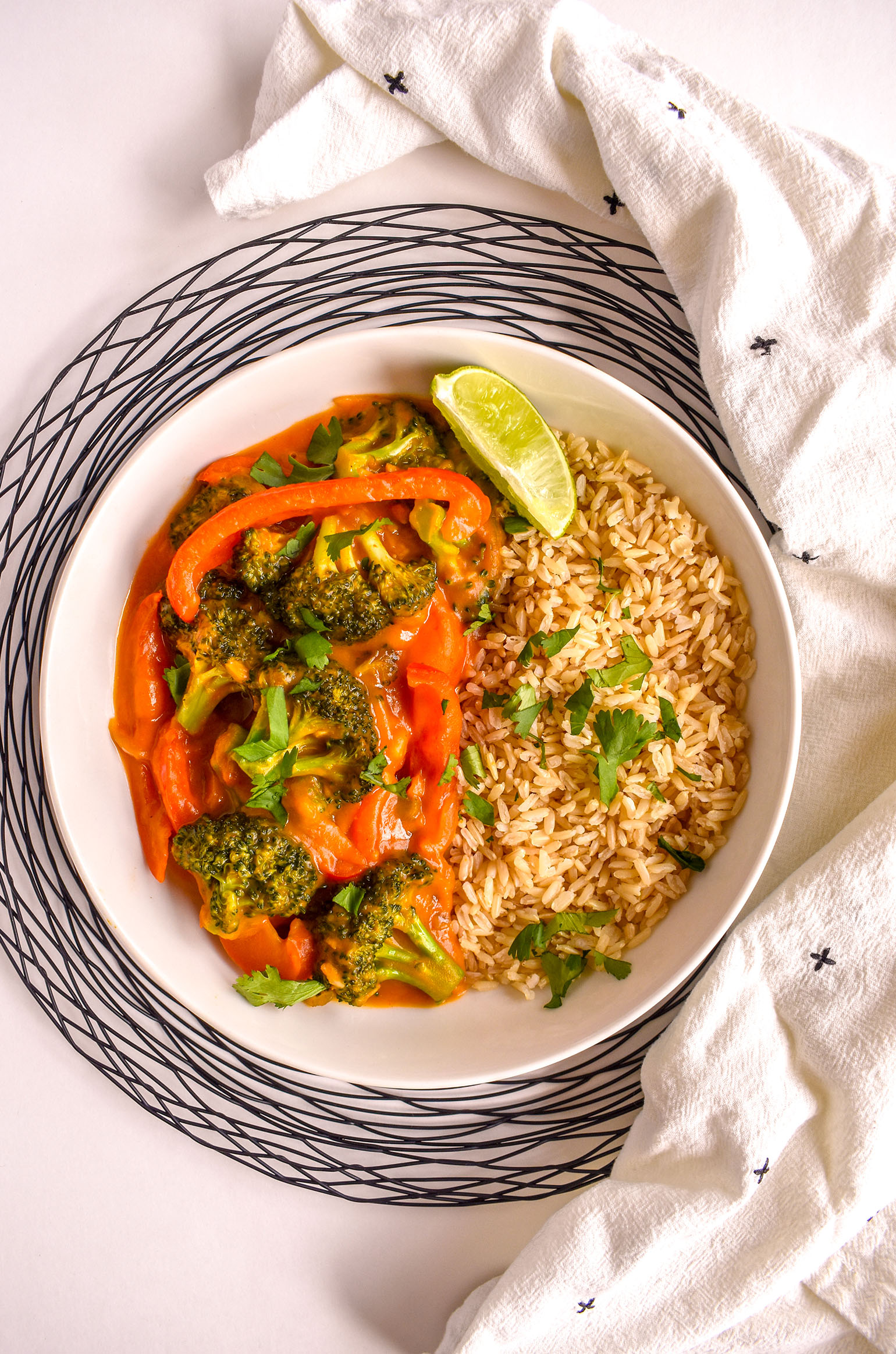 Butternut Thai Red Curry with Vegetables
A uniquely delicious butternut Thai red curry with vegetables. Fresh veggies are sauteed with red curry paste, coconut milk, and pureed roasted butternut squash to create an incredible meal! Serve alongside rice and garnish with lime wedges, cilantro, and Sriracha.
Course:
Dinner, Entree, Main Course
Ingredients
1

small

butternut squash

1 1/2

Tbsp

olive oil

1

Tbsp

coconut oil

1

yellow onion, sliced thin

2

cloves garlic, minced

1"

fresh ginger root, minced

1

serrano pepper, seeded (optional) and chopped

1

red bell pepper, seeded and sliced thin

1

head broccoli, chopped into florets

2

Tbsp

red curry paste

1

cup

lite coconut milk

1/3

cup

vegetable broth

2

tsp

lime juice

1/4

tsp

salt
To serve
brown rice

cilantro leaves, chopped

lime wedges

sriracha
Instructions
Preheat your oven to 425˚F and line a baking sheet with parchment paper. Drizzle 1 Tbsp of olive oil on the baking sheet. Set aside.

To roast the butternut squash, slice off both top and bottom ends of the squash. Cut the round part of the butternut squash from the long part. Slice the round part in half and scoop out the seeds. Slice the long part in half lengthwise. Brush the remaining 1/2 Tbsp of olive oil on the inside of the 2 round halves and place them cut side down on the oiled baking sheet. Place the long halves cut side down alongside the 2 rounds. Roast the squash for 40 minutes, or until the squash is very tender. Set aside to cool.

Once the squash is cool enough to handle, use your fingers to peel off the outer skin. Measure 1 1/4 packed cups of the roasted squash and place it in a high-speed blender or food processor. Blend the butternut squash until silky smooth and set aside.

Heat a medium saute pan over medium heat and add the coconut oil. Once hot, add the onion and a pinch of salt to the pan and saute for 5 minutes or until the onion is translucent. Add the garlic, ginger, and serrano pepper and saute until fragrant 2-3 minutes. Add the red bell pepper slices and the broccoli and cook, stirring often for about 6-8 minutes.

Stir the red curry paste in with the sauteed vegetables until the vegetables are well coated. Pour the blended butternut squash, coconut milk, and vegetable broth into the pan and stir everything together. Bring mixture to a boil and lower to a simmer. Simmer for 15 minutes. Just before serving, add the lime juice and the salt to the curry, season to taste, and remove from the heat.

Serve the butternut Thai curry with vegetables in wide bowls with a side of brown rice. Garnish with fresh cilantro, lime wedges, and Sriracha.
Notes
You will most likely have leftover roasted squash and one of my favorite ways to eat butternut squash is to sprinkle it with cinnamon and enjoy it with a scoop of homemade nut butter and a drizzle of maple syrup.