I talk a lot about food memories and how food not only connects us to other people, but it also connects us to our past. Every summer as cherries start appearing in the produce section of the grocery store, and as I find myself taste testing more than what would be considered acceptable, I am immediately taken back to a hot, July day 10 years earlier. Food memories are funny, I find most memories to be attached to our senses of taste and smell, yet the site of the cherries alone made me smile.
I had another recipe planned for you guys today, but these cherry almond muffins are just too special not to share. I hope you too have a big bag of cherries in your fridge, as these muffins are delicious and fairly simple; the only real work here is pitting the cherries and trying to patiently wait for these little gems to bake.
Go whip up a batch, and I'll wait here and we'll continue the story.
I'm certain of the season because cherries were the only thing we bought at the store that day, and because I remember walking uphill in the hot sun, the bag of cherries in my arms. 10 years ago my then boyfriend, now husband, was driving this car that would occasionally choose not to start. I say choose because this only happened on days with less than ideal weather or at the most inopportune times. That day we stopped at the grocery store to buy a snack and chose a big bag of cherries from a large display, with zero recognition of the price. Upon check-out, we realized that the one item we were purchasing, the cherries, was $10. Because it was the only thing we were buying and because there was now a line forming behind us, we proceeded to purchase the insanely overpriced cherries.
As luck would have it, we walked out into the hot sun in disbelief that we just spent $10 on cherries, and the car wouldn't start. This was 2008, Uber wasn't a thing yet, and from past experience, we knew the car would start eventually. So we decided to walk uphill in the hot July sun to where I had left my car, several miles down the road. Looking back I'm sure we were quite the site, walking in the dirt alongside a road with no sidewalk with a giant bag of cherries. When I finally had the opportunity to enjoy the cherries that joined us on our adventure, I recall thinking they were delicious. Maybe the $10 cherries were perfectly ripe, or maybe it was the long walk and the heat that made the fruit taste extra sweet.
Summer fruit is my favorite and cherries top the list, with melon and blueberries falling close behind. Other than cherry pie or a cherry danish, I find that cherries aren't used as often in baked goods as other fruits. When cherries do make an appearance in desserts, they are almost always swimming in a sugary syrup and rarely fresh. These muffins combine one of my favorite food pairings: fresh, summer cherries and almonds. I wanted to keep the almond flavor subtle and I like the lightness that almond flour brings to baking. If you'd like to amp up the almond flavor, consider adding almond extract, or serve the muffins with a big spread of homemade almond butter.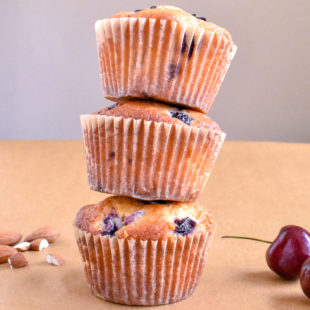 Cherry Almond Morning Muffins
Fresh, summer cherries packed into little muffins made with almond flour. These muffins are the perfect way to start your day, especially when served warm and spread with homemade almond butter.

Makes 12 muffins.
Ingredients
8

Tbsp.

unsalted butter, softened

2/3

cups

granulated sugar

2

eggs

1

tsp

pure vanilla extract

1/2

cup

vanilla yogurt

1/4

tsp

salt

2

tsp

baking powder

1/2

cup

almond flour

1 1/2

cups

unbleached all-purpose flour

1 1/4

cup

fresh cherries, pitted and chopped, divided

zest from 1 lemon
Instructions
Preheat oven to 350 degrees F. Line a muffin pan with baking cups, and set aside.

Using a mixer on medium speed, cream together the butter and the sugar in a medium bowl. Add in the eggs individually, mixing to combine after each egg.

Pour in the vanilla extract, as well as the yogurt and continue mixing.

Add the salt and the baking powder to the bowl. Gradually add in both of the flours, mixing to combine.

Using a rubber spatula, gently fold in 1 cup of the cherries, as well as the lemon zest.

Spoon batter into the prepared muffin pan, filling each cup 3/4 full. Press the remaining 1/4 cup of chopped cherries into the top of the muffins. Bake muffins for 24-26 minutes, or until tops are golden and a toothpick comes out clean.

Let muffins rest in the pan for 10 minutes, before transferring to a cooling rack.
Notes
I recommend using a whole milk yogurt, or at least something that has a bit of fat. My favorite is the Siggi's 4% yogurt.