We're still riding the tomato train, right? Okay, good. As much as I may complain about the heat, tomato season is my most favorite so prepare for the tomato recipes to keep on coming. I feel a bit silly posting this recipe today because it's just so simple, yet I'd hate to let summer come to an end without sharing this classic southern tomato and mayo sandwich with you all. I've had countless tomato and mayo sandwiches over the years, but recently I had a memorable one at the new Garden and Gun Club in Atlanta, so much so that this recipe is inspired by that sandwich.
Have you ever looked at a recipe and thought, "there are hardly any ingredients in this" and then you take your first bite and it's phenomenal? That's because simple food with few ingredients is very often the best food. There is definitely a place for fancy food and complex sauces, but more often than not I'd rather have a meal with fewer and better quality ingredients that are prepared well.
This post may contain affiliate links. Please read my <a href="https://www.ibroughtbread.com/disclosure/">disclosure</a> for more info.
This tomato sandwich is exactly that. You need a total of 6 ingredients, and that's including the salt and black pepper. The most important part of this recipe is that you have to use really great ingredients; perfectly ripe and juicy summer tomatoes, soft pillowy white bread (yes, it has to be white), Duke's mayonnaise, and fresh thyme. I chose to make the bread for these sandwiches, using a recipe from one of my favorite bread books, but that's not necessary as long as you use really good fluffy bread.
After reading this, I really hope that you head into your kitchen and prepare yourself a classic southern tomato and mayo sandwich. I promise you that you'll love it, it will become a summer staple, and you may even consider buying a t-shirt.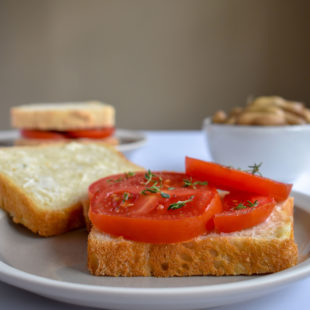 Southern Tomato & Mayo Sandwiches
Nothing says summer like a tomato and mayo sandwich. Fresh seasonal tomatoes sliced and seasoned with salt, pepper, and fresh thyme, between two slices of fluffy white bread slathered in mayo.
Ingredients
4

slices

soft white bread

2

Tbsp

mayonnaise

2

medium tomatoes, sliced 1/3" thick

generous pinch each

salt, black pepper

1/2

Tbsp

fresh thyme
Instructions
To prepare the sandwiches, generously spread mayonnaise on one side of each slice of bread.

Layer the tomato slices on top of 2 of the mayo covered bread slices and season with salt and pepper. Sprinkle fresh thyme on top of the tomatoes, and close both sandwiches with the remaining bread slices.
Notes
Sandwiches are best enjoyed with a pickle and a side of plain potato chips or hot boiled peanuts.