"I remember walking into my grandmother's house…her house was small, no bigger than this room, and smelling this bread cooking on her stove." 
My friend Philip recounted this memory to me as we stood in his kitchen, waiting for the Irish soda farls he was making to finish cooking.  Just a few minutes earlier, he stood at the flour-covered counter lightly kneading and shaping the bread, something he was raised eating, yet had never made himself. As we all do when making a recipe we're familiar with, he would occasionally make comments about the consistency of the dough or how it was shaped, comments relating the bread he was making to what his mother's or grandmother's bread looked like.
Philip emigrated from Belfast, Ireland, where he grew up, to the United States in 1999. He was looking for a change and chose to move to the Atlanta area where his sister lived- familiarity in a new country to make the transition a bit easier. In the nearly 20 years that he's lived here, he's become a part of a large expat community here in Atlanta.  Friends he watches rugby and soccer matches with and drinks Guinness alongside. He keeps a small collection of candies, snacks, and store-bought Irish soda farls in his fridge, items you can't find here that friends have brought him back from Ireland.
When I asked Philip if he had any family recipes that had been passed down, and if he'd be interested in making food together, he suggested that we make an Irish soda bread. I quickly envisioned the Irish soda bread I had made and enjoyed in the past, a quickbread that's studded with caraway seeds and raisins and baked in the oven. Upon arriving at our friend's home, I quickly glanced at the recipe we were using and immediately realized that what I thought of as Irish soda bread, was not at all what we were making.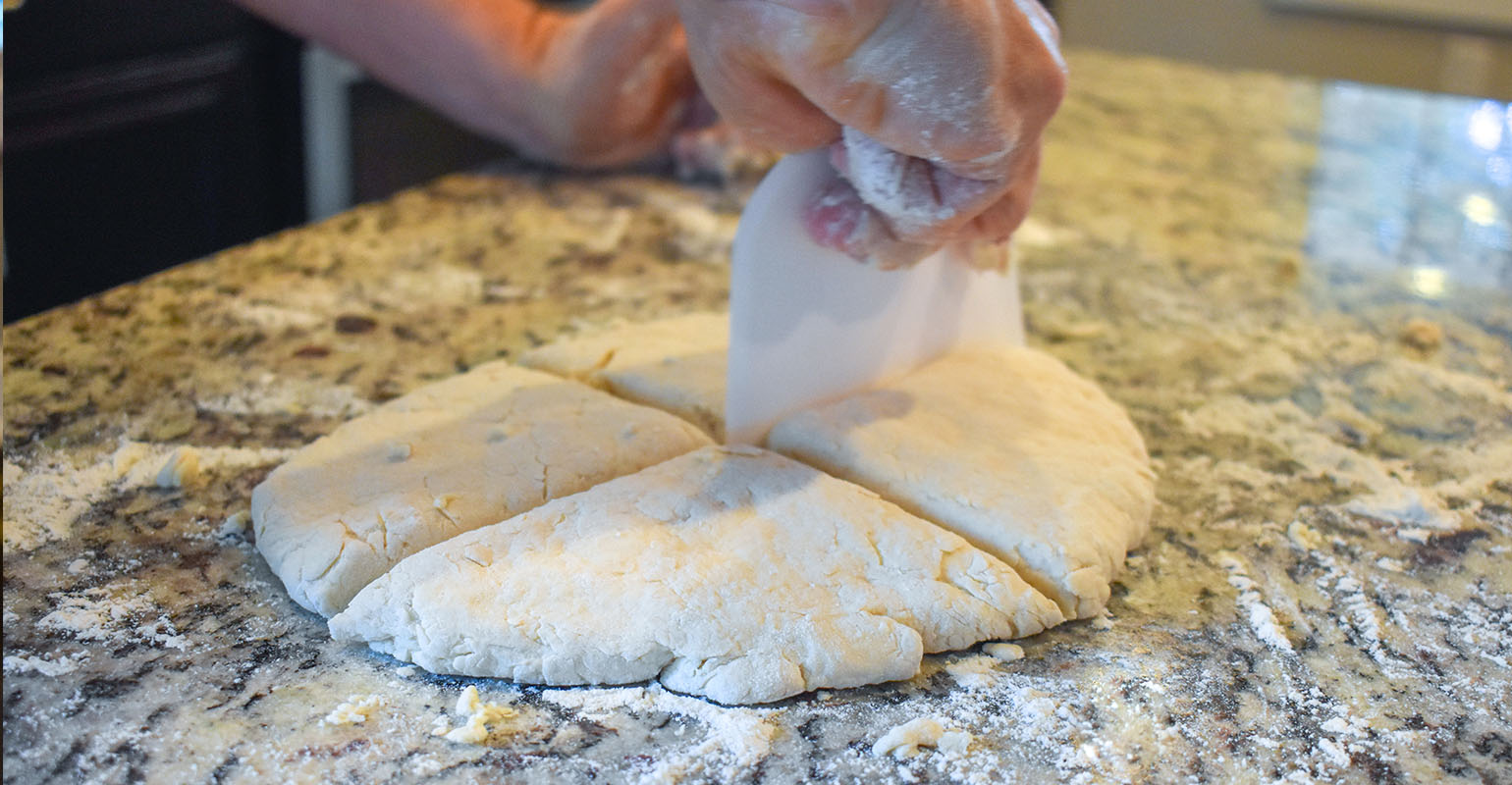 Traditional Irish soda bread, as well as the more Americanized version, are both considered to be quickbreads, meaning that baking soda or baking powder are used as the leavening agent instead of yeast, but that's where the similarities end. Irish soda bread, or farls as they're called in Northern Ireland, was traditionally baked in a cast iron pot directly over a flame, not in an oven. Like many other bread recipes from around the world, the ingredients for the farls are simple; a combination of white flour, salt, baking soda, and buttermilk. When I mentioned to Philip that the bread I remembered eating had caraway seeds and raisins in it, I received a crazy look. Not only were those ingredients not traditional, but to add nuts or dried fruit to your bread would have been considered a luxury.
The simple ingredients plus the short 20 minutes it takes to mix and cook the bread, make this recipe ideal for when company shows up, or as Philip remembers it, for your mom to throw together at lunchtime every Saturday. The Irish soda farls Philip made were nice and fluffy, yet had a crisp crust to them picked up from the pan. I enjoyed eating the farls warm, spread with butter and jam, and I look forward to toasting and topping the bread with chopped tomatoes and olive oil.
I made a seasonal blueberry lemon jam to go alongside the Irish soda farls. Similar to the bread, the ingredients are minimal and the process to make the jam is fairly quick. The recipe makes a small jar's worth, which is perfect if you're like me and have a hard time using up a giant jar of jam.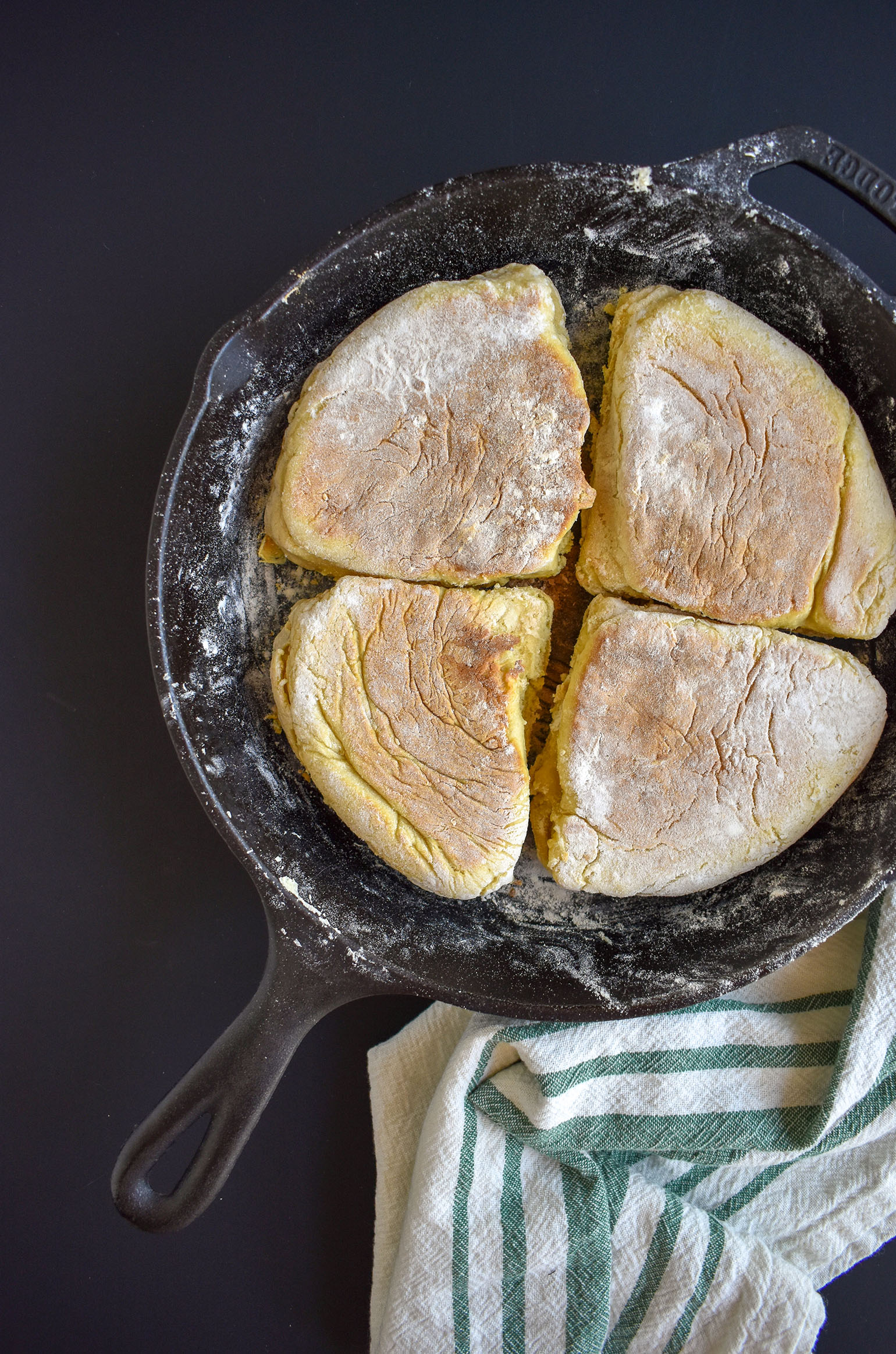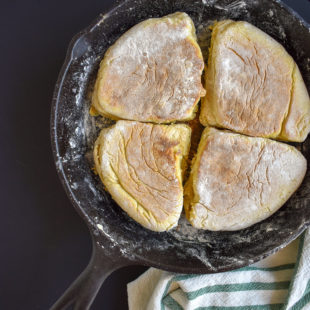 Traditional Irish Soda Farls
A traditional Irish bread that's quick to make and delicious. Enjoy served warm with butter and the blueberry lemon jam recipe below or toasted and topped with cheese and tomato slices.
Ingredients
2

cups

unbleached, all-purpose flour

1/2

tsp

salt

1

tsp

baking soda

1

cup

buttermilk
Instructions
Heat a 10" cast iron skillet on medium-low heat.

Combine the flour and salt in a medium bowl. Sift in the baking soda.

Make a well in the center of the dry ingredients and add the buttermilk. Mix until just combined, being careful not to overmix. If the mixture is too dry to become a dough, add more buttermilk 1 Tbsp. at a time.

Pour dough out on to a lightly floured surface and form into a 1/2" disc. Cut dough into 4 wedges.

Lightly flour skillet and cook dough in the skillet for 5-7 minutes per side, until golden on each side and cooked through.

To enjoy, slice wedges width-wise and spread with butter and jam, or the toppings of your choice.
Blueberry Lemon Jam
A sweet and slightly tart seasonal blueberry jam. This jam is simple in that it doesn't take long to make and only requires 4 ingredients. Make this when blueberries are in season, or substitute another seasonal fruit.
Ingredients
2

cups

blueberries

1/4

cup

lemon juice

1/4

cup

granulated sugar

pinch

kosher salt
Instructions
In a medium pot over medium-low heat, combine blueberries, lemon juice, sugar, and salt.

Bring the blueberry mixture up to a simmer, stirring frequently. After about 10 minutes, the blueberries will start to break down.

Continue cooking until a majority of the blueberries have broken down. Use a strong fork or a potato masher to mash up any remaining berries.

When you have a smooth jam, remove the pot from the heat and allow the jam to cool.

Once the jam is cool, transfer to a jar and store in the fridge up to 3 months.