"I never cook Korean food…it just doesn't taste the same when eaten alone. I don't know why, but it tastes so much better when eaten with other people."
This was my sister-in-law Christine's response when I called her to ask if she would be interested in cooking a meal together, something she grew up eating, or a dish she attached to a memory. An idea for a cold noodle dish almost immediately popped into her head. Recently she's been recreating this meal after years of watching her mom make it. We made plans to make dinner, drink beer, and share (mostly) food stories.
I find that sharing a homemade meal with someone, especially one that contains history or a memory, is the greatest way to get to know someone and to take a peek into their past. Small talk is replaced with discussion of a recipes origin and conversation flows as we immerse ourselves in both the cooking, as well as the sharing of food memories.
Christine, a first-generation American, was born in Chicago after her mom emigrated from South Korea in the mid-70's. Eventually making their way to the southeast, Christine found comfort in food and in cooking. Before the era of Netflix produced cooking shows, she collected Bon Appétit magazines, reading them cover-to-cover, and she went to pastry school here in Atlanta.
The Korean cold noodle dish we make is comprised of crisp, finely shredded vegetables, buckwheat noodles, a balanced sauce of gochujang, sesame oil, rice vinegar and soy sauce, among other things, all tossed together and topped with thinly sliced cooked egg, served with a side of kimchi. Christine says she's spoiled, and I have to agree, as both the gochujang and the kimchi we eat are made by her mom and stored in nondescript containers in her fridge. It is the perfect meal for a hot day, which is exactly how Christine remembers eating it growing up. As we sit around the table, she comments on the few cold, yet savory dishes that exist in American cooking, and all I can think of are sad, mayo-based pasta salads you find at every summer cookout.
Along with eating this meal during warm, summer months, Christine has a more recent memory of eating a similar, if not the exact same, noodle dish. Five years ago, on a trip to South Korea with her mom and her brother, she recalls a day spent busily seeing and doing things until all three of them nearly collapse simultaneously around a table and into bowls of cold noodles; a time and a place that she will forever attach to that meal.
As we slurp perfectly spicy noodles, we start to discuss bizarre food pairings we ate growing up, things like Gorton's fish sticks served alongside Kraft macaroni and cheese, and hot dogs cut up into baked beans or spaghetti. Food memories, even those that start out in the frozen food aisle or come from a can, are forever etched in our brains.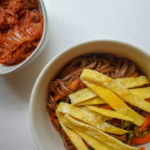 Korean Spicy Cold Noodles
This Korean cold noodle bowl is summertime perfection. Noodles and crisp veggies tossed in a gochujang and sesame oil sauce that's perfectly spicy, and then topped with egg and kimchi.
Ingredients
Noodle Bowl:
1 1/2

bundles

buckwheat soba noodles

1/2

English cucumber, grated large

1

carrot, peeled into ribbons

4-6

red lettuce leaves, sliced thin

2

eggs

1

Tbsp.

oil
Sauce:
2

Tbsp.

gochujang

1 1/2

Tbsp.

sesame oil

2

tsp.

soy sauce

2

tsp.

mirin

2

tsp.

rice vinegar

2

tsp.

toasted sesame seeds

Toppings:

Kimchi, homemade if you can get your hands on it.
Instructions
Cook the soba noodles according to package instructions, making sure to run under cold water and massage well, until cool.

Heat a well-oiled medium skillet over medium-low. Whip eggs well with a pinch of salt and pour into skillet. Resist the urge to touch the eggs, letting them cook fully. Once cooked throughout, remove from the pan and slice into thin ribbons.

In a large bowl combine the cucumber, carrot, lettuce, chilled noodles, and the sauce. Use your hands to toss the vegetables and noodles, coating everything fully in the sauce.

Dish out noodles into bowls and top with egg ribbons.
Notes
Feel free to substitute the vegetables in this dish for whatever you have on hand, or whatever is seasonal. Gochujang varies in spice, add more to taste for more of a kick. If you're unable to find homemade kimchi and you don't feel like or have the time to make a batch, Wildbrine Korean kimchi is my favorite storebought kimchi.