Chai is my pumpkin spice. In high school, a friend introduced me to a chai latte and I immediately loved it. This was pre-pumpkin spice mania when Starbucks beverages were a bit simpler. Chai lattes have remained my seasonal beverage, though these days I prefer to sip chai tea at home with a bit of local honey and a splash of milk. This spiced chai bundt cake has the delicious complex chai spice flavor that I adore balanced with the sweetness of a yummy cake.
A few months ago I discovered Big Heart Tea Co. and I ordered a 7 box bundle of their signature teas. Y'all I love tea. And I love that this company is ethically sourcing their herbs and ingredients. I have giant mugs dedicated to tea alone because I love to sip on a big, soothing mug of tea all afternoon. My bundle came with "Calm Yo Tummy" tea with fennel and lavender that I can't get enough of, "Cup of Sunshine" with ginger and turmeric, a delicious "Chai Tea" that is so wonderful, and 4 others that are equally soothing and tasty.
This post may contain affiliate links. Please read my <a href="https://www.ibroughtbread.com/disclosure/">disclosure</a> for more info.
I knew soon after receiving my assortment of teas that I wanted to bake something using one of the tea's. Because it's fall, and because of my love for chai I decided to bake a spiced chai bundt cake using milk that I steep the chai tea in. This chai tea milk establishes the flavor for this recipe and additional chai spices are added to enhance it.
Orange season is still a month or so away, but I couldn't resist adding a bit of zest from an orange to this recipe. The spices and the bright orange zest are so perfectly compatible, one adding a mouthful of spice while the other brings a beautiful gentle nudge of citrus. This cake is meant to be eaten and shared throughout the holidays, so as we enter citrus season, a time of year where it's the only fruit in season, the orange note in this cake will bring a smile to your face.
"No matter where I was in the house, that vividly resinous orangey scent woke up my nose whenever anyone peeled one in the kitchen."  -Barbara Kingsolver in Animal, Vegetable, Miracle
A sweet and perfectly spiced chai bundt cake made with Big Heart Tea Co. chai tea, as well as chai spices to really bring out the flavor. Orange zest flecks the batter and adds a seasonal brightness to the cake. Deliciously moist, this bundt cake will be loved by family and friends all season long.
Enjoy with a scoop of cinnamon ice cream and a hot mug of chai tea.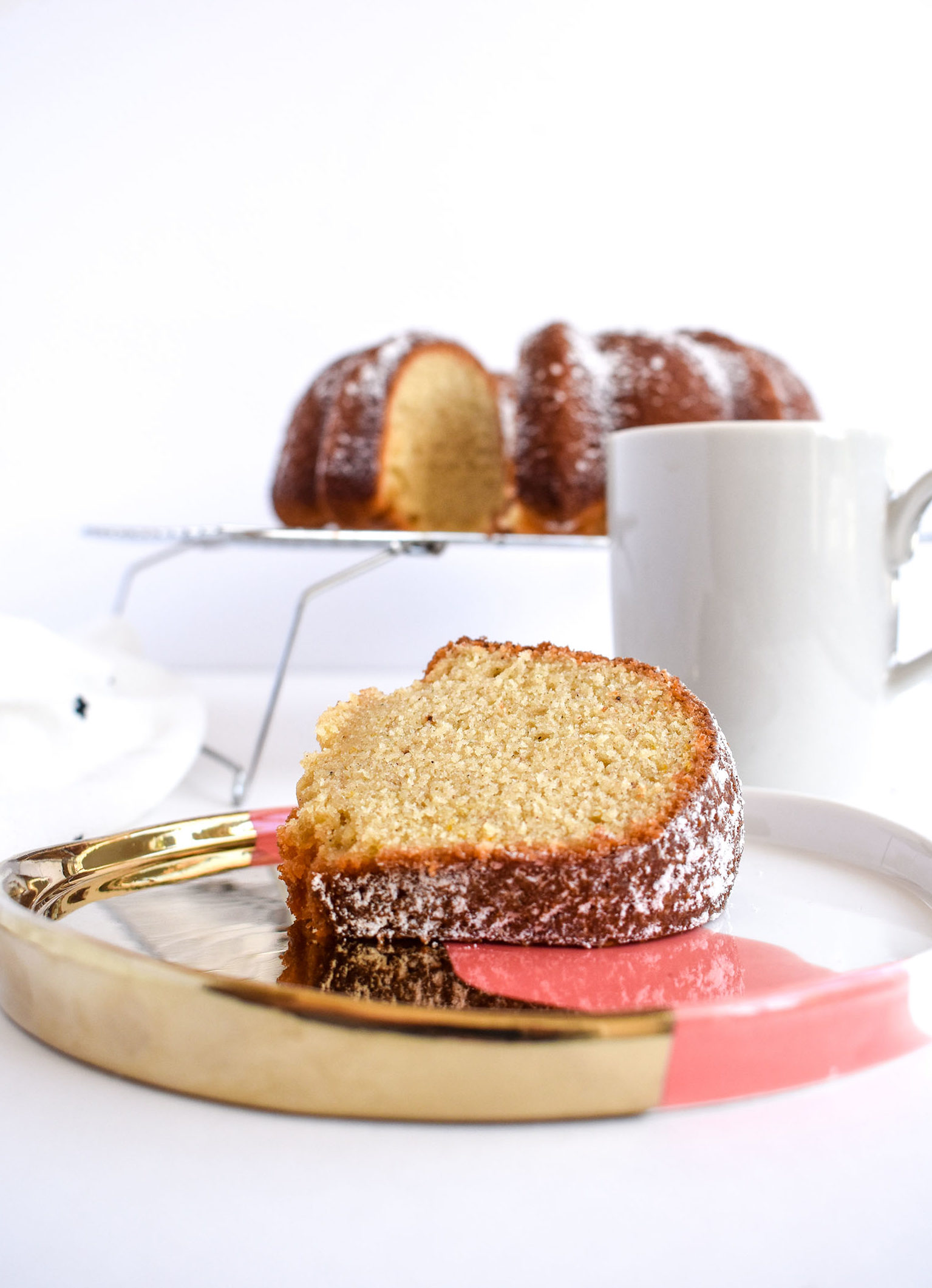 Spiced Chai Bundt Cake
Deliciously moist and full of spices and bright citrus, this spiced chai bundt cake made with Big Heart Tea Co. chai tea, chai spices, and orange zest is the perfect cake to enjoy all season long with family and friends.
Ingredients
Bundt Cake
1

cup

whole milk

2

Tbsp's

Big Heart Tea Co. chai tea

1 1/4

cups (20 Tbsp's)

unsalted butter, room temperature

1 1/2

cups (311g)

granulated sugar

5

eggs, room temperature

2

tsp

pure vanilla extract

3

cups (376g)

unbleached all-purpose flour

2

tsp

double acting baking powder

2

tsp

chai spice (see below for recipe)

1/4

tsp

salt

zest

from 1 large orange
Topping
1 1/4

tsp

chai spice (see below for recipe)

1

cup

confectioners sugar
Chai Spice
1 1/2

tsp's

ground cardamom

1/2

tsp

ground ginger

1/2

tsp

ground cinnamon

2

pinches

ground cloves
Instructions
Preheat your oven to 350˚F. In a small pot over low heat, heat the milk until steaming stirring constantly as to not scorch it. Remove the milk from the heat and using an infuser (like this one) steep the chai tea in the milk for 10 minutes. Strain the tea and discard the leaves, reserving the milk. Make sure you have 1 cup of milk- add more, if necessary. Set aside.

In a large bowl, use a mixer to cream together the butter and sugar. Add the eggs one at a time, mixing each one in individually. Mix in the vanilla.

Add the flour, baking powder, chai spice, and salt to a medium bowl. Stir to combine.

Add 1/3 of the flour mixture to the large bowl with the eggs and mix in, being careful not to overmix. Then add in 1/2 of the chai milk, mixing to combine. Continue alternating flour and milk, combining as you go, and finishing with the last 1/3 of the flour.

Grease a bundt cake pan with cooking spray or melted shortening. Pour the cake batter into the pan and use a spatula to smooth out the batter.

Bake cake for 40-45 minutes until golden brown and a sharp knife inserted in the cake comes out clean.

Remove from the oven and using a heatproof spatula gently loosen the edges. Let sit in the pan for 5 minutes and just before turning out onto a cooling rack, give the cake a good shake left to right. Flip the cake over on to the cooling rack and let cool completely.

Just before serving, combine the powdered sugar and remaining chai spice in a small bowl. Sift the sugar-spice mixture over the cake, slice, and enjoy.
Notes
Wait to grease the bundt cake pan until just before adding the cake batter. If you do it too early, all of the oil may sink to the bottom of the pan increasing the likelihood the cake will stick.