It should come as no surprise that we travel for food. We have food in mind when we choose destinations and our Google search history looks a bit like this: "best pintxos in San Sebastian", "best craft beer bar in Reykjavik", "best hot dog in Copenhagen". This isn't to say that we don't spend afternoons doing free walking tours- this is actually one of my favorite things to do- or visiting a highly recommended historical site. But food is always the priority.
Finding really good food while traveling takes as much time and research as figuring out what sites you want to see. I'd be lying if I said that every meal we've had while traveling has been delicious- the "Mexican food" we were craving in Portugal was not worth it and the potato chips we ate for supper in Iceland, because we ran out of fuel for our little stove, were less than satisfying. Eating is as important of an experience while traveling as visiting Mayan temples or royal palaces. I put together a guide to finding good food and drink when traveling, whether that's going out to dinner or cooking a meal in a local's home, as well as researching and selecting food to bring home with you.
This post may contain affiliate links. Please read my disclosure for more info.
Finding food & Drink
Already I feel like this post is coming across as though I am someone who spends months researching and planning where to eat, what to eat, and what bars to visit. I use to be that person, but now, other than a few exceptions, I'm far more likely to show up somewhere, find wifi, and figure out what's good within walking distance. Typically there are a handful of places that I know I want to eat and drink at when visiting a new city or country, but for every other meal, I do a bit of last-minute research combined with asking locals for recommendations.
This is a time where I'm most thankful for all of my travel blogger friends and their amazing reviews and write-ups. Using their blogs plus a fair amount of research on TripAdvisor and Lonely Planet often leads to several must-check-out places to eat and drink. Travel forums and review sites can be a bit tricky to navigate due to an overwhelming number of restaurants and bars with thousands of positive reviews. This is where it comes in handy to not only know what kind of food you want to eat but to also know the experience you want to have. If you're interested in eating somewhere with rave-reviews but you want to avoid the crowds, do a Google search and along the sidebar, you can find out when they're busiest and avoid peak times. This is also a great tool to have for making a last minute reservation. I find review sites to be most helpful when it comes to deciding what to order and what a restaurant is most known for based on the photos reviewers post.
If good food is your priority when you travel but you find yourself overwhelmed by the number of options, ask someone. While people may get annoyed with tourists in their city, they also have pride in where they live and if asked, are more than happy to share with you their recommendations. Afterall, food is the one thing that unites us all and from experience, you'll most likely walk away with a long list of places to enjoy a good meal. Take advantage of staying at an Airbnb by asking your host for a list of restaurants and bars they recommend, a good Airbnb host should have one ready for you. Similarly, a hotel concierge is there to help you enjoy your stay, and that includes the food you eat and the beer you drink.
Travel blogs I love and recommend checking out:
Trailing Rachel
With Husband in Tow
Mostly Amelie
The Funnelogy Channel
Food tours & experiences
Food tours are excellent because they are actually 2 tours in 1; it's a food tour and a walking tour combined.  As a participant, you get to visit local markets, eat street food, and try local foods- all things that you may not have experienced if it wasn't for the tour. Another benefit is that food tours often lead you to parts of a city where lesser known, but still excellent, restaurants are and where you might not have ventured out to on your own. I mentioned above that I love a free walking tour, and often times those tours are affiliated with a local food tour that you can sign up for.
Sometimes no matter how much research you put into eating local food and gaining a cultural experience, you still end up feeling like you're stuck in over-priced tourist traps. It often seems as though some cities have been developed entirely around tourism and a local experience is hard to discover. Consider participating in a food experience where you get to cook a meal in a local's kitchen along with them. Often times these experiences involve a trip to a local market to buy meat and produce, as well as a multi-course meal that you make together. Experiences like these, making and sharing food with new friends, are invaluable.
Here are a few food experience companies that I plan to utilize for future travel:
Traveling Spoon
Airbnb Experiences
The League of Kitchens
Bringing food home
We don't collect things when we travel. When we were in Paris in April we picked up a print from a local artist, we have a beautiful handmade rug from Portugal and we have an old map in our entryway from Iceland, but we tend to resist buying little trinkets. However, I do make an exception for bringing home food items. I've become a bit of an olive oil collector as we've traveled and my love for wine has met its companion in local olive oil. I picked up a bottle from my very favorite place in the Douro Valley in Portugal, and when I spotted bottles in Rioja, Spain I grabbed one there, as well. Both have special meaning from 2 wonderful trips and I use them pretty sparingly.
A great tip is to research the ingredients that a region is known for, prior to traveling there- in this case, David Lebovitz' list of items to bring home from France made this simple and fun. Ingredients such as Le Puy lentils that I've never had success finding where I live, were far easier to come across in France. I also picked up Edmond Fallot Dijon Mustard, as well as Fleur de Sel de Guerende salt; both specialty French items that I was happy and willing to lug back home.
Make sure you do a little bit of research on customs guidelines and what food you can and cannot bring back into your home country. Having food taken by customs or TSA is not how you want to end your vacation.
Using the ingredients I've collected from past trips, I thought it would be fun to put together a very global yet seasonal recipe. I made a warm lentil salad with Le Puy green lentils from France, I roasted tomatoes and capers in olive oil from Spain and salt from France, I made a mustard dressing with dijon mustard from France and olive oil from Portugal, and I served the salad with fresh basil from my backyard. This lentil salad is wonderfully flavorful from the caper brine and the sweet roasted tomatoes. Enjoy it as a side to roasted snapper or pile it on top of a green salad and eat it for lunch.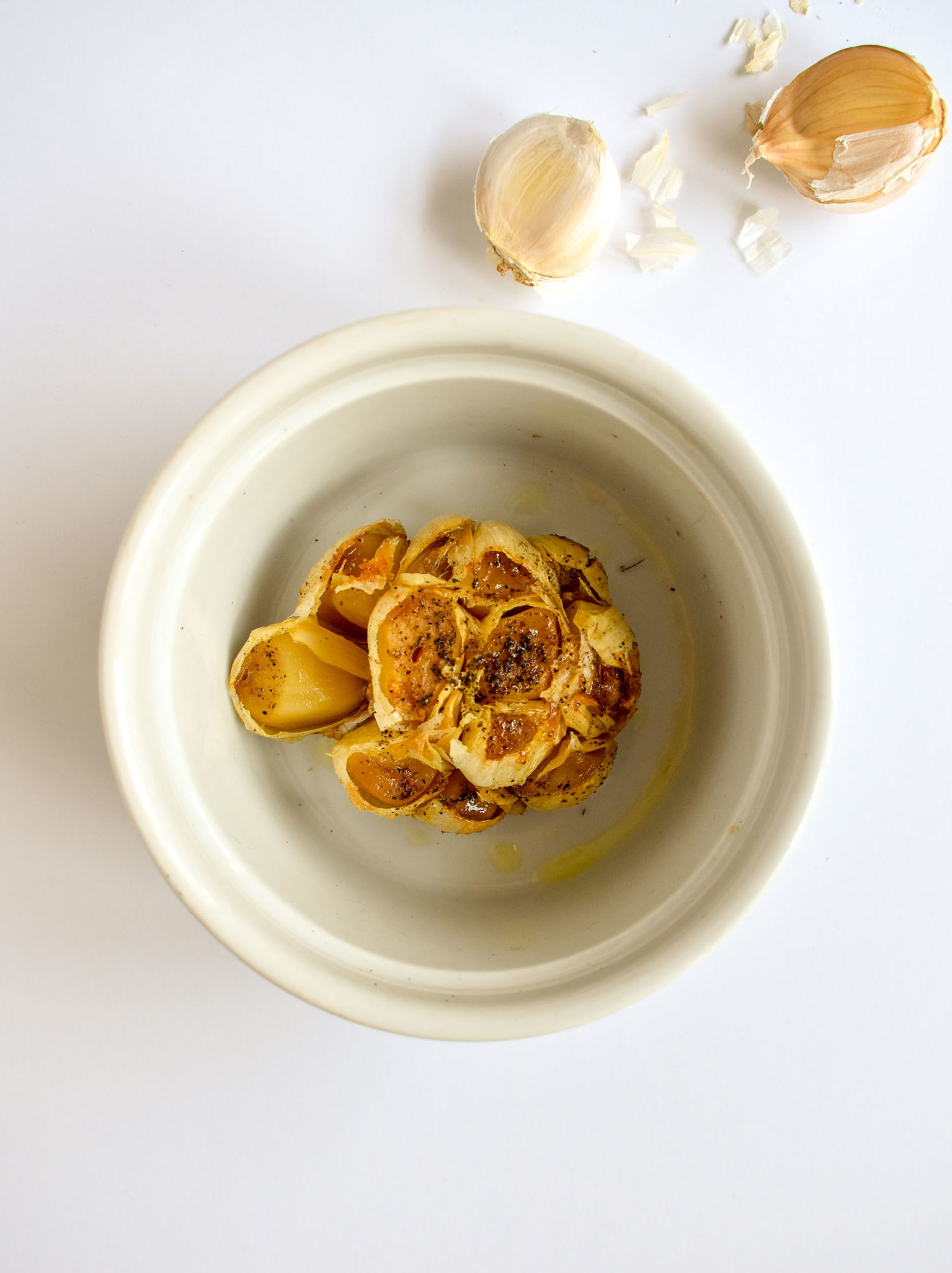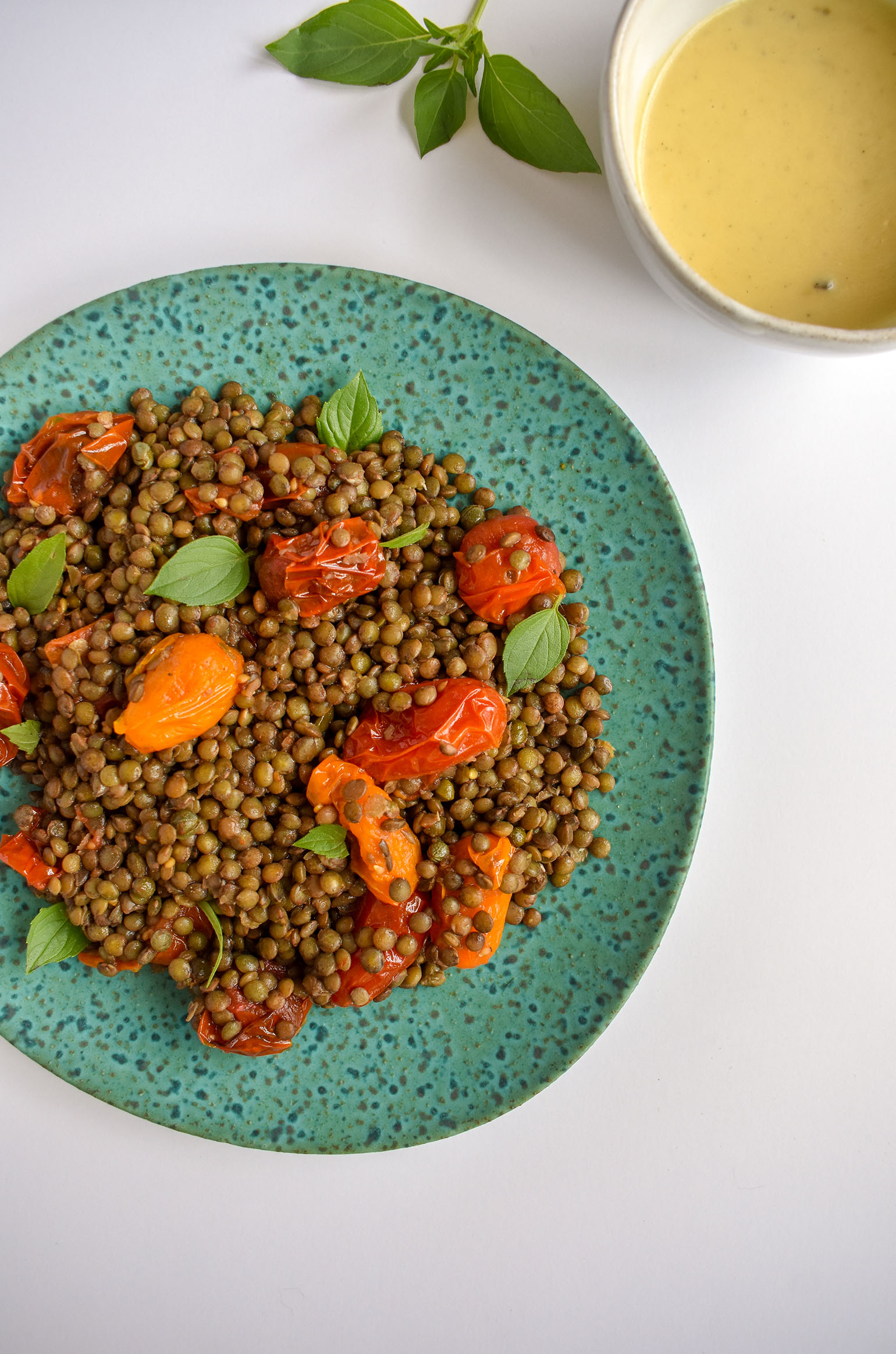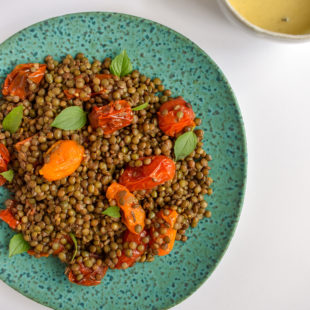 Warm Lentil and Roasted Tomato Salad
A warm lentil salad that's perfect as a side dish for any weeknight meal or to take along to a party. Made with le puy green lentils and tossed with oven roasted tomatoes and capers, fresh basil, and a briny mustard dressing.
Ingredients
Dressing
1

head

garlic

2

Tbsp + 2 tsp

olive oil, divided

1/4

tsp + pinch

salt, divided

fresh ground black pepper

2

tsp

dijon mustard

1

Tbsp

red wine vinegar

2

tsp

brine from capers

1/2

tsp

agave

2

Tbsp

water
Lentil salad
1

cup (184g)

le puy green lentils or brown lentils

1

pint

cherry tomatoes

1

Tbsp

capers

1

Tbsp

olive oil

1/4

tsp

salt

fresh ground black pepper

handful

fresh basil, roughly chopped, divided
Instructions
Heat oven to 375 degrees F. To roast the garlic, remove any extra skin around the head and slice off the top. You want the top of each clove to be exposed, but make sure to not separate the cloves. Place the garlic in aluminum foil and drizzle with 2 tsp of olive oil, a pinch of salt, and black pepper. Wrap foil around the garlic and place inside a ramekin. Roast in the oven for 1 hour. Once the tops are golden, remove from the oven and let cool on the counter.

To prepare the tomatoes, line a baking sheet with parchment paper or a reusable mat. Combine the cherry tomatoes, capers, 1 Tbsp of olive oil, salt and black pepper in a medium bowl. Spead tomato mixture on to the prepared baking sheet in a single layer. When garlic has 10 minutes remaining, add the tomatoes to the oven. Roast for 25 minutes, giving the pan a shake halfway through.

Meanwhile, make the lentils. In a medium-sized saucepan, add lentils and 4 cups of water. Simmer lentils over medium-low heat for 20 minutes or until tender. Strain in a fine mesh strainer and set aside.

Once the garlic has cooled and you can handle it, squeeze out each softened clove of garlic into a food processor or high-powered blender. Add to the blender the remaining 2 Tbsp's of olive oil, dijon mustard, red wine vinegar, caper brine, agave, water, 1/4 tsp of salt, and black pepper. Blend until smooth. Season to taste- add salt or more vinegar, if needed.

In a large bowl, combine the lentils, the roasted tomatoes, capers, and the juices from the pan, and about 1/2 the dressing. Toss to combine. Stir in half the fresh basil.

To serve, spread lentil salad out on a serving platter or divide into bowls and top with remaining fresh basil leaves. Serve the remaining dressing on the side.
Notes
If using brown lentils instead of green le puy, make sure to follow the cooking instructions because they may take longer. I don't recommend red or yellow lentils because they don't hold their shape and will become mush.