There are very few things I hate more than wasting food. In fact, in a post I wrote a few weeks ago, I mentioned that my disdain for food waste has made me a better cook. Refusing to throw away perfectly good ingredients I've purchased,  and then creating a meal out of those ingredients has forced me to figure out how to make good food.
Repurposing extra beans or grains, as well as anything left rolling around in my crisper, is pretty simple. But herbs have always been a bit tricky. In my fridge, I find that herbs tend to end up hidden beneath other veggies, and once they're out of sight, they're definitely out of mind. I'll buy a clamshell of rosemary for a single recipe, use 2 sprigs, and by trash day that container has worked its way to the bottom of the fridge. With no immediate use for the rosemary, it more often than not gets thrown away.
Now that I have a garden full of herbs, it's imperative that I find a few creative ways to use what I'm growing. It may be hard to believe, but there truly is a max amount of pesto that one person can eat.
my Current supply of Herbs:
2 basil plants that are growing out of control
2 mint plants- 1 peppermint, 1 spearmint
1 oregano plant
A big bunch of rosemary
Here are the 3 simple and delicious things that I have been making to use the herbs that I have on hand, as well as to decrease potential food waste.
Smoothies
I tend to remake the same 3 or 4 smoothies on repeat, so it's easy for me to forget about the herbs I have in the fridge while I'm groggily pulverizing my breakfast in a blender. Basil and mint tend to be the most compatible with berries, as well as tropical fruit. Be careful when adding herbs to a smoothie because they can easily overpower the flavor. Only add a small bit at a time, say no more than a small handful- you can always add more herbs, but you can't take away. My 3 favorite smoothie-herb combinations (as pictured: top to bottom) are pineapple mint, strawberry basil, and blueberry mint.
Salads
Adding herbs to the basic salad you make to go alongside your dinner or to eat for lunch, suddenly upgrades it to something far fancier. Simply add a handful of chopped basil, mint, or oregano (or get crazy and add all 3) to the greens and toss before adding your other veggies and toppings. The herbs elevate the flavor of the salad and you'll be happy you added them.
Pictured: Arugula salad with basil, mint, blueberries, almonds, and avocado.
Cookies
When most people think of adding herbs to dessert, they think of the classic mint-chocolate combination. I love this combination as much as the next person, but I dare you to try adding rosemary to your cookies. I credit Isa Chandra Moskowitz' rosemary chocolate chip cookies for my love of adding rosemary to desserts.
Recently a neighbor gifted me rosemary from his plant and I knew I wanted to make something sweet with the herb. What resulted are quite possibly my favorite cookies I've eaten to date. Well, one of my top 5 favorites, for sure. Few things in life are better than a buttery shortbread cookie that melts in your mouth. But if you take that cookie and add in bright, lemon zest and finely chopped rosemary, you're on to something great.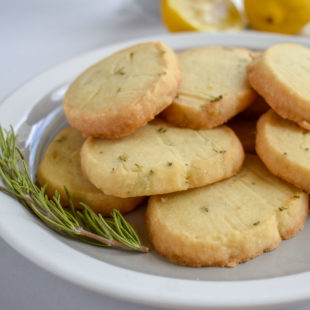 Lemon Rosemary Shortbread Cookies
Buttery homemade shortbread cookies with bright, flecks of lemon zest and rosemary sprinkled throughout. A simple cookie that punches a ton of flavor.
Ingredients
1

lb.

butter, softened

1/2

c.

powdered sugar

1

tsp.

pure vanilla extract

2

tsp.

rosemary, finely chopped

zest

from 2 lemons

2

c.

all-purpose flour
Instructions
Preheat oven to 350F and prepare 2 baking sheets with parchment or silicone mats.

In a medium bowl, using an electric mixer on medium-low, mix the butter until creamy.

Add in the powdered sugar, and mix until thoroughly combined.

Add the vanilla, rosemary, and lemon zest to the bowl and mix for about 30 seconds.

Finally, add the flour to the bowl and mix just until combined and you have a workable dough.

Turn the dough out onto a lightly floured surface and work into a long 2" x 2" log. Wrap the log in plastic wrap and place in the fridge to firm up for 1 hour.

Remove the dough from the fridge and unwrap. Using a knife, slice the dough into 1/2" rounds. Place rounds on cookie sheet. Bake for 15 minutes, or until edges are golden.

Let cookies cool on the pan for 5 minutes before transferring to a cooling rack to cool completely.

Store cookies on the counter in an airtight container.
Notes
These cookies freeze really well. After slicing the dough, wrap in plastic wrap and store in a freezer bag. When ready to bake, thaw in the fridge in the morning and they'll be ready to go that evening. Bake cookies as instructed in the recipe. 
Makes 25 cookies