"Picadillo is an easy weeknight meal…something every Cuban knows how to make."
Elsa tells me this as we stand in her beautiful, recently renovated kitchen drinking wine and preparing dinner together. The mother of my best friend, Elsa has always been like a second mother to me and I had been looking forward to cooking alongside her, making this Cuban meal, for several months. With 2 pots on the stove and all of the vegetables prepped, we talk about Cuban food traditions, being multilingual, and family as we make this easy Cuban picadillo de res with sweet plantains and a refreshing avocado salad.
Born in Havana, Elsa and her family immigrated to Switzerland from Cuba when she was 2 years old, as the political climate was beginning to intensify.  It's not a  surprise that Switzerland and Cuba have little in common when it comes to food; ingredients once readily available now non-existent in a new country with a different climate and different traditions. Fortunately, Elsa's father made frequent visits to Spain where dried beans, arborio rice, Spanish peppers, olives, and capers were available. Ingredients her mother could utilize to recreate the familiar flavors of Cuban cuisine, just as immigrants all over the world recreate the flavors of home. The tropical fruits, tubers, and plantains she would make do without for the time being.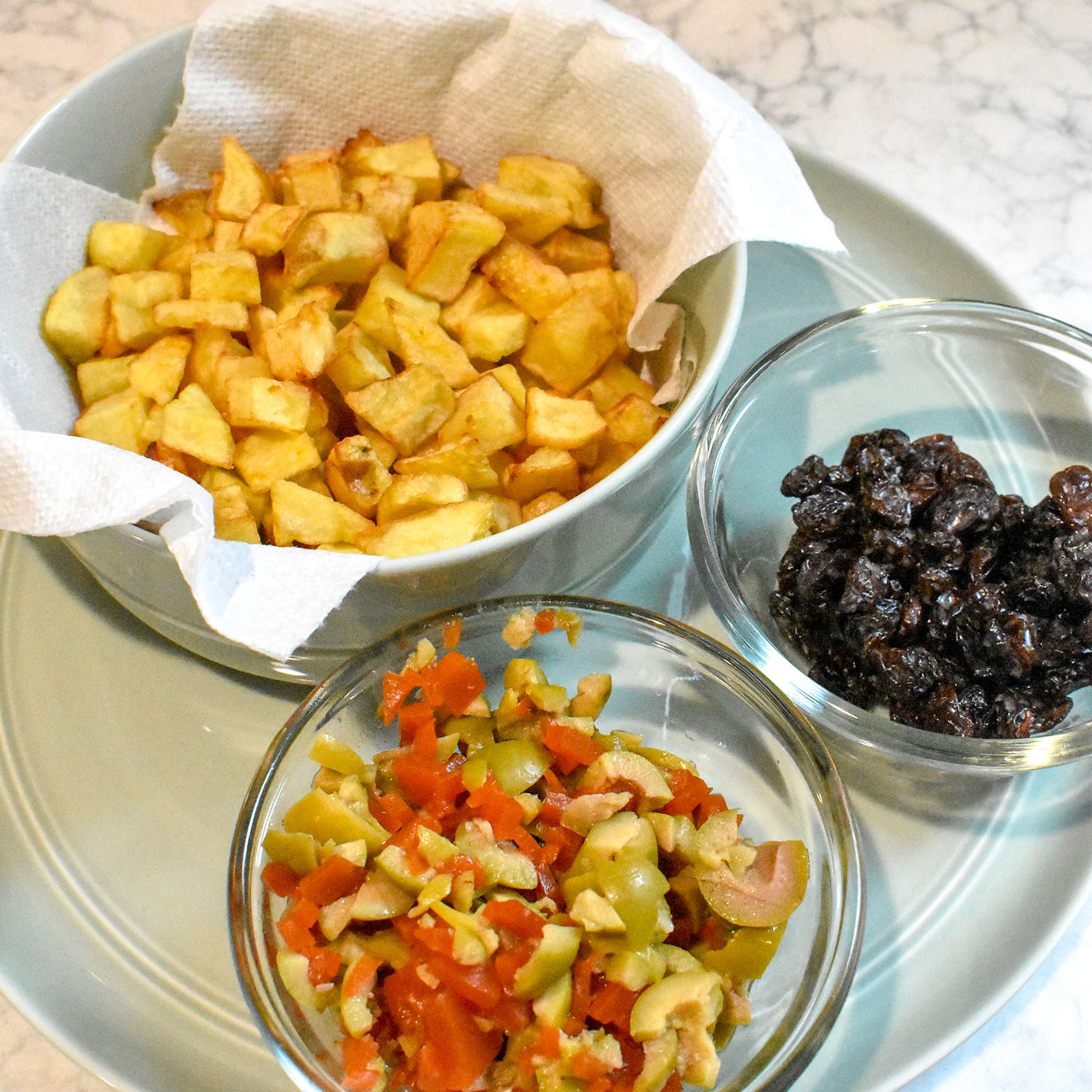 When she was just shy of 13, Elsa along with her family, emigrated from Switzerland to Miami where Cuban culture is rich and ingredients once hard to find, are now abundant. Growing up in Miami, Elsa met and married her husband Ramon and had 3 kids before moving north to Atlanta in 1993. Atlanta is no Miami, but as the Hispanic population has increased here, the availability of traditional Latin and Cuban foods has grown. She misses Miami restaurants that cook and serve traditional Cuban food, specifically a place called Versailles where the food served, reminds her of her mother's cooking.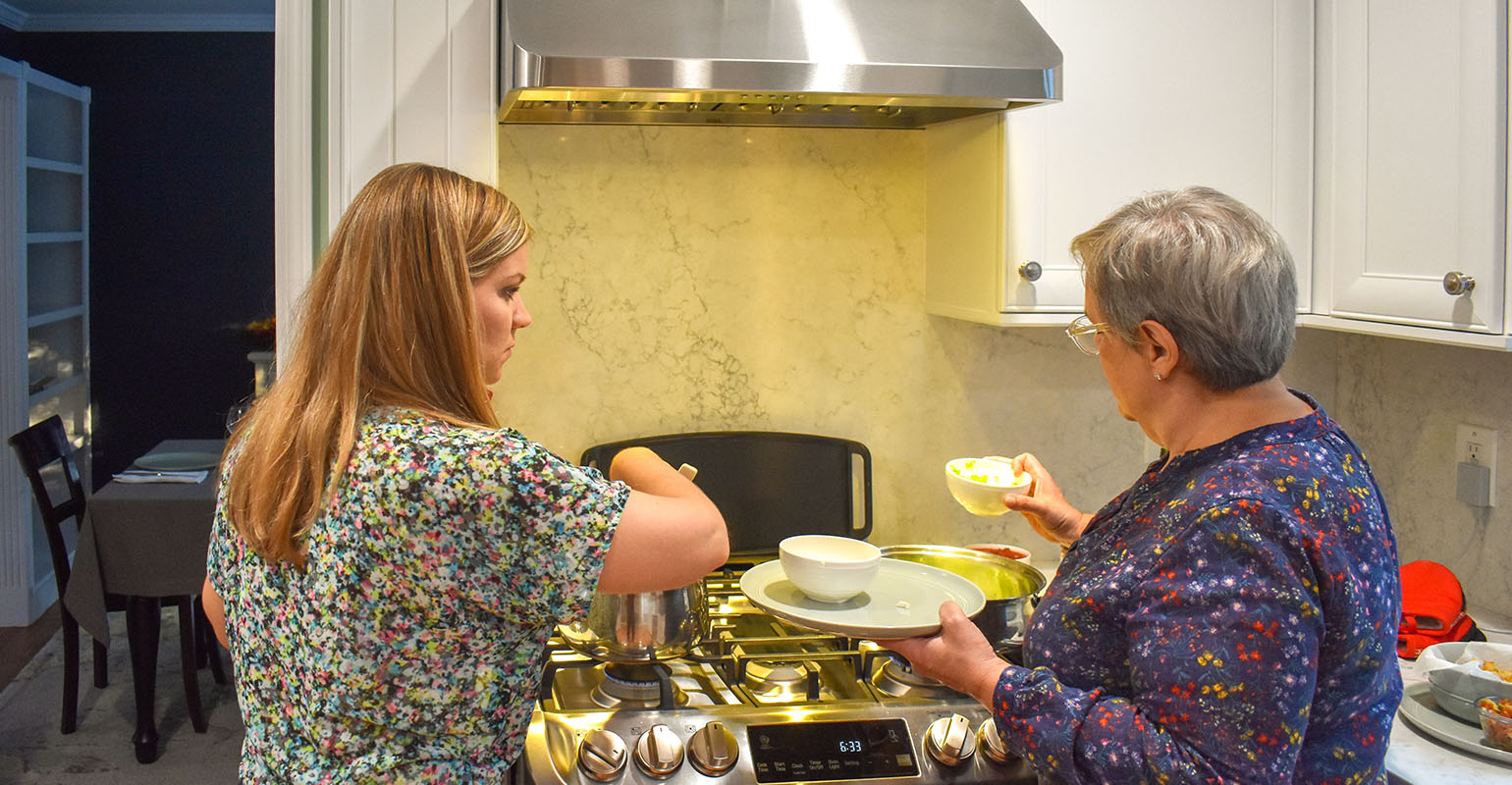 As we cook together, sautéing onions and beef, adding spices and olives, Elsa notes the differences in the picadillo she grew up enjoying where cinnamon and potatoes are added to the hash, compared to the version her husband was familiar with. The small variations of a recipe that are a result of geography. While I wasn't surprised that Cuban food isn't spicy, a common misconception that all Latin food includes hot peppers, I was surprised by the flavor profile of the meal we created, flavors that developed and merged from Spanish, African, and Caribbean influences.
This easy Cuban picadillo de res is a beef hash made with onions, bell peppers, ground beef, briny capers, and olives, raisins, and simple spices. Serve the picadillo on top of white rice with delicious sweet plantains and a creamy, refreshing avocado salad. For a vegetarian-friendly version, substitute the beef for brown lentils for an equally delicious meal.
To read and get the recipes for past Over Dinner posts, click here.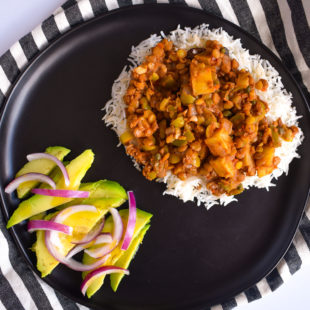 Cuban Picadillo de Res with Sweet Plantains and an Avocado Salad
A wonderfully flavorful Cuban beef hash filled with olives, potatoes, and spices served alongside sweet plantains and a deliciously fresh avocado salad. See recipe notes for the equally delicious vegetarian option.
Course:
Dinner, Entree, Main Course
Ingredients
Cuban Picadillo de Res
1

large

potato, peeled and cubed

3

Tbsp

olive oil, divided

1

large

sweet onion, diced

1

green bell pepper, seeded and finely chopped

4

garlic cloves, minced

2

lbs.

ground beef

1

cup

canned crushed tomatoes

1

tsp

ground cumin

1

tsp

dried oregano

1/4

tsp

ground cinnamon

1/2

cup

green olives, chopped

2

Tbsp

capers

1/3

cup

raisins

1/2

tsp + pinch

salt, divided

black pepper
Sweet Plantains
3

very ripe black plantains, sliced diagonally

1/2

cup

oil
Avocado Salad
2

small

ripe avocados, sliced into wedges

1/2

red onion, sliced thin

1/4

cup

red wine vinegar

1/2

tsp

salt

1/4

tsp

black pepper

1/4

cup

olive oil
Instructions
Start by preparing the potatoes. Preheat the oven to 350 degrees F and line a baking sheet with parchment paper. Toss diced potatoes with 1 Tbsp of the olive oil, and a pinch of salt and black pepper until coated and seasoned. Spread in a single layer on the prepared baking sheet and roast for 30 minutes, stirring halfway. Set aside once golden and crispy.

In a large saucepan over medium heat, sauté onion and green pepper in the remaining 2 Tbsp of olive oil, until the onion is softened, then add the garlic and ground beef.

Mash the onion and green pepper into the sautéing meat and cook until the meat is browned about 5 minutes. Add the tomatoes, cumin, cinnamon, and oregano. Reduce heat to low, cover and simmer for about 15 minutes.

In the meantime, make the plantains. Heat the oil in a sauté pan until a drop of water causes it to bubble. Once the oil is hot, place plantain slices in the pan to fry. Be careful to not crowd the slices and flip each one as they start browning around the edges. When done, they should have a caramelized appearance. Remove to a paper towel-lined plate for draining, while other slices cook.

While the plantains cook, add the potatoes, olives, capers, and raisins to the picadillo and simmer 5 minutes longer. Salt and pepper to taste.

Just before serving, make the avocado salad. Whisk together, vinegar, salt, and pepper in a bowl. While whisking, drizzle oil into the bowl, in a slow and steady stream. Arrange avocado wedges on a platter and top with onion slices. Pour dressing over salad and serve immediately.

Enjoy the picadillo over white rice alongside the sweet plantains and the avocado salad. Pass sliced Cuban bread around the table.
Notes
To make this vegetarian, substitute 1 cup of brown lentils for the ground beef. Add the lentils, along with 2 cups of vegetable broth in step 2 when instructed to add the beef. Bring the mixture to a boil and then lower heat to a simmer and cover. Simmer for 15-20 minutes until lentils are soft. Drain off any extra liquid, being careful to not lose any of the lentils or vegetables. Proceed with the recipe as instructed, next adding crushed tomatoes and spices.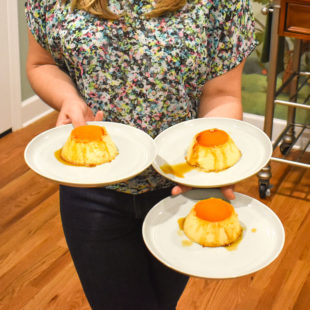 Cream Cheese Flan
A creamy and perfectly sweet cream cheese flan that is not only delicious but may be the best you've ever tasted.
Ingredients
2/3

cup

sugar

1

8 oz

package of cream cheese, softened

4

large

eggs + 2 egg whites

1

14 oz can

sweetened condensed milk

1

12 oz can

evaporated milk

2

tsp

vanilla extract

1/4

tsp

salt
Instructions
Preheat oven to 325°F. Pour sugar into a heavy saucepan and cook over medium heat, stirring frequently, until completely melted and caramel-colored, about 10 minutes.

Working quickly, carefully pour melted caramelized sugar into an 8-inch round baking pan. Using potholders, tilt the pan to completely coat the bottom. Set aside.

In a large bowl, beat cream cheese with an electric mixer on medium speed until smooth. Beat in eggs, one at a time. Beat in sweetened condensed milk, evaporated milk, vanilla, and salt to make the custard.

Set prepared round baking pan in a 13 x 9-inch baking dish. Gently pour the custard mixture into the round pan over the caramelized sugar. Carefully fill the larger baking dish with 1-inch of boiling water. Bake 45 to 50 minutes or until custard is set.

Carefully remove the round pan from the hot water. Cool on a wire cooling rack for 1 hour. Cover and chill for several hours, preferably overnight.

To serve, invert pan onto a rimmed serving plate to remove the flan. Cut into wedges. Spoon caramel from serving platter over the flan.