Sweet potatoes tend to be one of those foods that people either love or they hate. I'd say I fall somewhere in the middle, possibly leaning closer to love than hate. For me, it's all about how they're seasoned and prepared. Instead of taking a food that's naturally sweet and enhancing that sweetness with brown sugar, I much prefer to go the savory route and balance out that sweetness. In this case, for these savory roasted sweet potatoes with cherry tomatoes, I used smoked paprika and the power of roasting to balance the sweetness, as well as a bit of acid from tomatoes, pepperoncini peppers, and red wine vinegar.
Sweet potatoes make me think of fall and Thanksgiving, yet their harvest starts right about now, in mid-September when temperatures are still pretty warm. I'm not yet in the mood for heartier meals and I'm still craving summer tomatoes, fresh herbs, and lots of cold fruit. So this is where I'm coming from with this recipe, a side dish that is just hearty enough to stand alone, yet still fresh with the bright tomatoes.  A blend of 2 seasons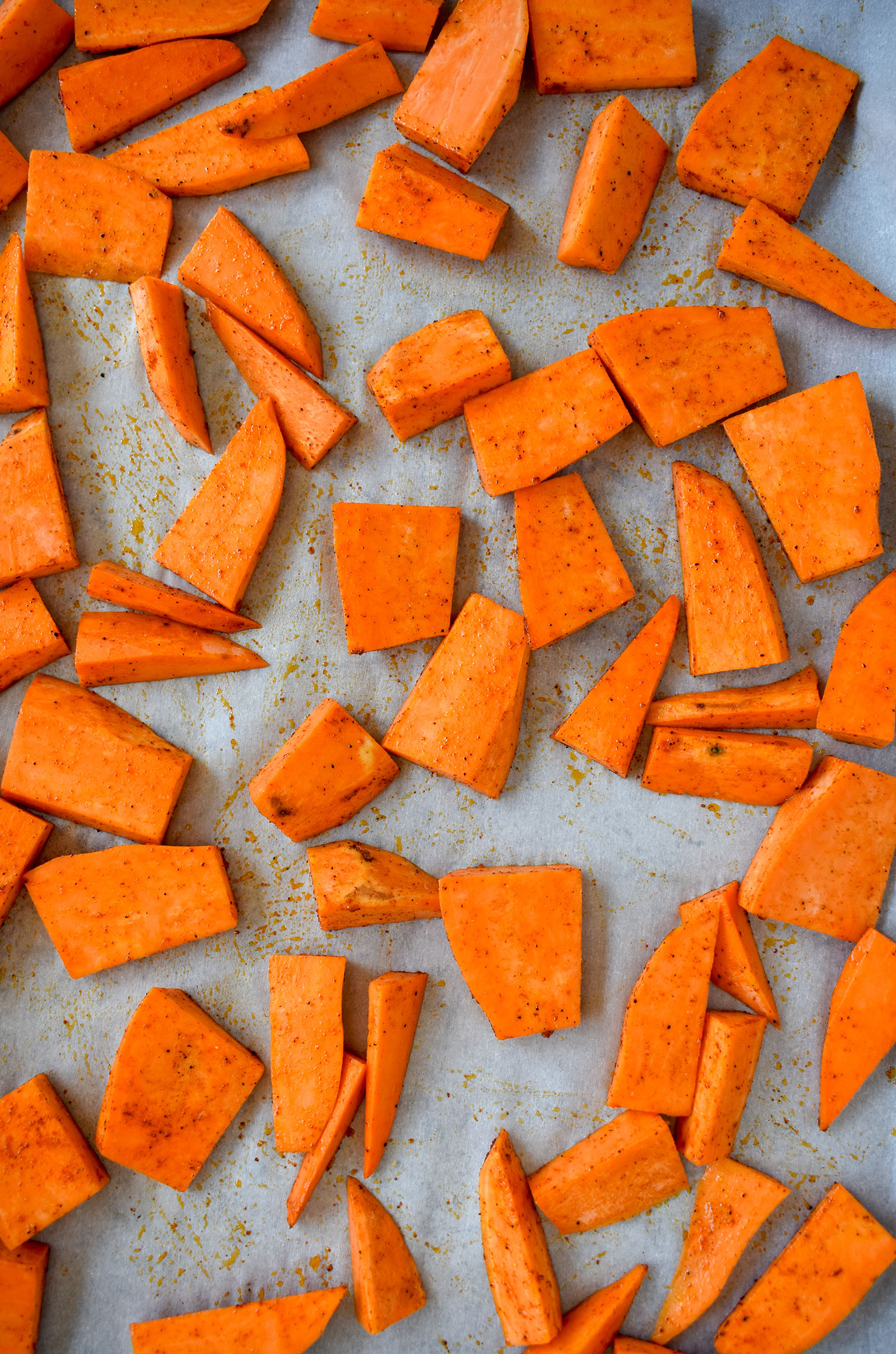 For the brief period of time that sweet potato and tomato season overlap, I wanted to create a recipe utilizing both ingredients. I opted to prepare and focus on both of the ingredients separately to bring out their individual flavors, all the while making sure the seasoning and spices would be complementary to the overall dish. This recipe is as simple as it is beautiful, letting the natural flavors speak for themselves and only enhancing them with a few ingredients.
Sweet potatoes are tossed and seasoned with smoked paprika and garlic powder before roasting just until crisp on the outside and velvety inside. Served on a platter and topped with a mixture of well-seasoned and balanced cherry tomatoes, thin sliced pepperoncini peppers, and green onions.
Serve these savory roasted sweet potatoes with cherry tomatoes alongside grilled fish and a green salad. Enjoy with a glass of chardonnay.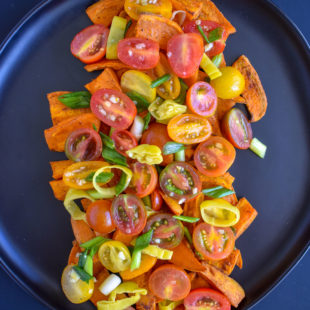 Savory Roasted Sweet Potatoes with Cherry Tomatoes
As sweet potato season arrives and tomato season ends, I created this savory roasted sweet potatoes with cherry tomatoes recipe as a transition from one season to the next. Fresh and full of flavor, this is a great side dish to the main entree, as well as a great option to take along to a gathering.
Ingredients
16

oz

sweet potato, peeled and sliced into 1 1/2" pieces

1 1/2

Tbsp + a glug

olive oil, divided

1/4

tsp

smoked paprika

1/4

tsp

garlic powder

1/2

tsp

sea salt, divided

1/4

tsp

fresh ground black pepper, divided

1

bunch

green onions, green and white parts sliced on a diagonal

1

pint

cherry tomatoes halved, various colors if possible

1

clove

garlic, minced

1

Tbsp

red wine vinegar

1/4

cup

pepperoncini peppers, thinly sliced
Instructions
Preheat oven to 375 degrees F and line a baking sheet with parchment paper.

In a medium-sized bowl, toss sweet potatoes with 1 Tbsp of the olive oil, smoked paprika, garlic powder, 1/4 tsp of sea salt, and 1/8 tsp of ground black pepper. Spread sweet potatoes in a single layer on the prepared baking sheet. Roast for 30 minutes, stirring halfway through.

While the sweet potatoes are roasting, soak the green onions in a bowl of ice water and set aside.

To prepare the cherry tomatoes, combine the halved tomatoes, garlic, remaining 1/2 Tbsp of olive oil, red wine vinegar, 1/4 tsp sea salt, and black pepper in a medium, bowl. Season to taste and set aside to allow the tomatoes to marinate.

To serve, spread the roasted sweet potatoes on to a serving platter. Drain the green onions, pat dry, and add to the cherry tomatoes along with the pepperoncini peppers and a glug of olive oil. Toss the tomato mixture to combine and pile the tomatoes and their juices on top of the sweet potatoes.