Fall is finally here and I am rejoicing in the cooler weather. I know some of you already have snow where you are, but up until this last week it has been as warm here as it was in July. A change in season comes with a change in harvest and other than sweaters and red wine, the new seasonal fruits and vegetables are what I'm most excited about with the coming of fall. Despite it being near 90˚ last weekend, we headed up to the north Georgia mountains to go apple picking and lugged home a giant sackful of red and yellow apples. After months of creating recipes filled with tomatoes, eggplants, and summer squash I now have a fridge full of apples and a long list of recipes to create, enjoy, and share. These baked apple cheddar hand pies are like a welcoming introduction to fall.
More than in years past, I find myself feeling in tune with this transition from summer to fall and I attribute that to the seasonal cycle of growing food. There's something about having your hands in the earth and witnessing the closure of one season along with the growth of another that's truly magical and grounding.
For me, the cooler days of fall mean hearty soups and stews, cozy pajamas, chai lattes, cats snuggling for warmth, roasted root vegetables, scarves, and pie. I know that pie isn't necessarily a fall thing for most, as blueberry and cherry pies are abundant in the summer, but growing up pies made an appearance at my house during the holiday season. Around Thanksgiving, my mom would bring home pumpkin, apple, and pecan pies to enjoy with vanilla ice cream. I have this memory of standing over a Dutch apple pie picking off and eating the streusel topping because I much preferred that over the pie itself.
Pie falls somewhere on a long list of desserts that I'm fine with, but I don't love. I eat a slice of pumpkin pie every Thanksgiving and maybe a slice of apple pie at some other point during the holidays, and really that's enough pie for me for the year.  I've discovered that what I don't love about pie is the ratio of ingredients. I would far rather have a more equal amount of buttery crust to filling, rather than a small amount of crust and a mouthful of sweet, sugary apples. You're fine to disagree with me here because either way, this post ends with a delicious pie recipe so it's a win-win for everyone.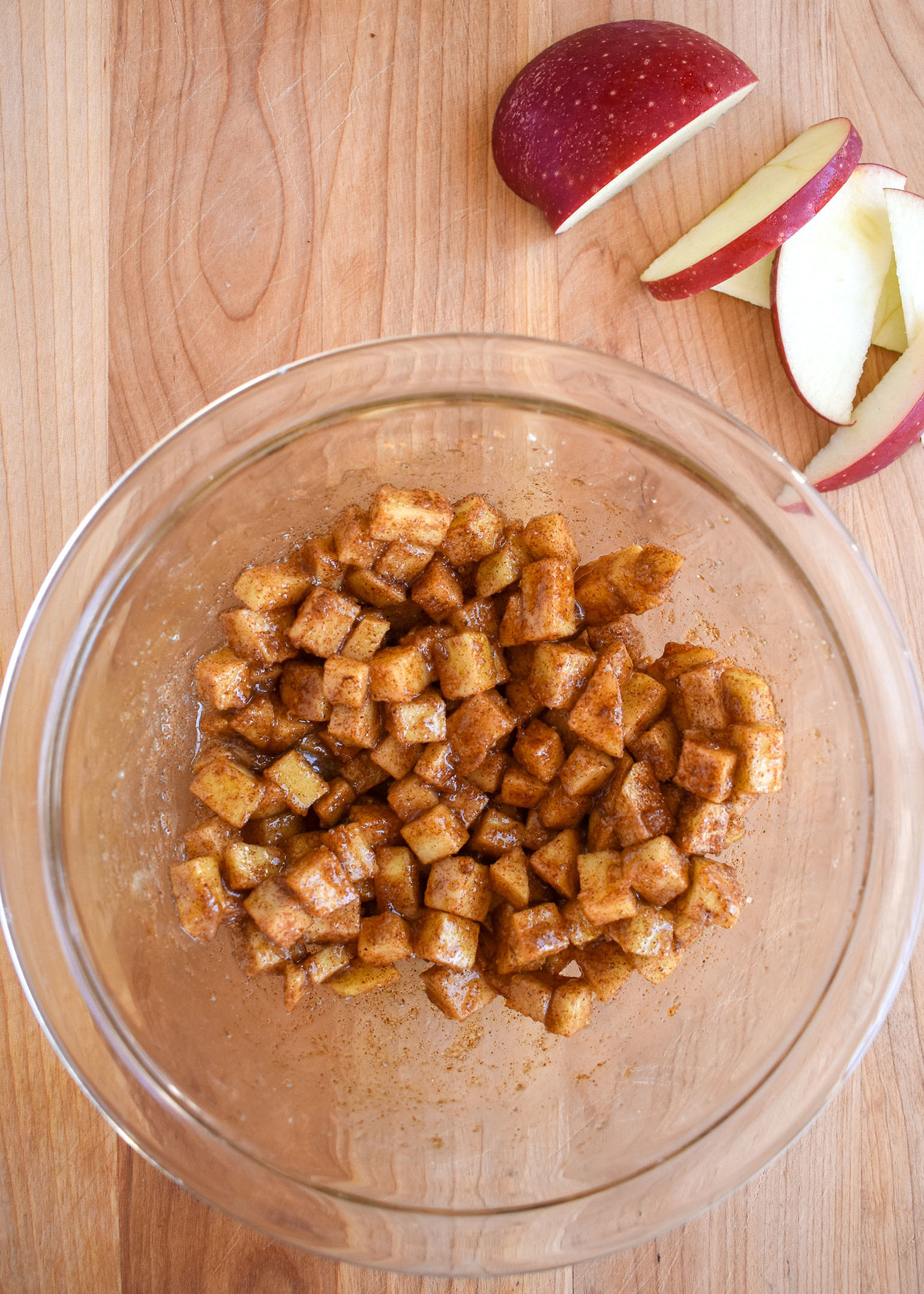 This is where the hand pie comes in. Because of its small handheld size, the ratio of apple filling to flaky buttery crust is perfect. With every bite, you get the crunch of the flaky outside immediately followed by the sweet, gooey inside and it is all together perfectly balanced. Apples and cheddar cheese are the perfect pairing, known well to those of us who adore a good cheese plate, as well as all my friends from England or the midwest where a slice of cheddar is often served alongside apple pie. The sweetness from the apples paired with the umami from the sharp cheddar is as complimentary of a flavor combination as chocolate covered pretzels or peanut butter and jelly.
"An apple pie without the cheese is like a kiss without the squeeze."
Seasonal baked apple cheddar hand pies packed with sweet apples that have been tossed with cinnamon, nutmeg, cloves, and sugar and a generous sprinkle of sharp cheddar cheese. These hand pies are the perfect balance of sweet and savory and the crisp, buttery pie crust makes them the perfect fall dessert.
Enjoy warm with a scoop of vanilla ice cream.
Baked Apple Cheddar Hand Pies
Sweet fall apples are tossed with cinnamon, sugar, nutmeg, cloves, and a generous sprinkle of sharp cheddar cheese to make the perfect baked apple cheddar hand pies.
Ingredients
1

roll

packaged pie crust, such as Pillsbury

1

large

apple, peeled and cored, chopped small

3/4

tsp

ground cinnamon

1/8

tsp

nutmeg

pinch

ground cloves

3

Tbsp

granulated sugar

pinch

salt

1/2

tsp

pure vanilla extract

2

Tbsp

unsalted butter, melted

1/2

Tbsp

arrowroot or cornstarch

1/3

cup

shredded sharp cheddar cheese

1

egg

1

Tbsp

water

sugar to finish
Instructions
Preheat your oven to 375˚F and line a baking sheet with parchment paper.

Spread the pie crust out flat on your counter and using a 3" round cookie cutter cut out 10 circles. If you're short a circle or 2, roll out the dough scraps and cut out more. Place dough circles on the prepared baking sheet and chill in the refrigerator for 20 minutes.

While the dough chills, combine the chopped apples, cinnamon, nutmeg, cloves, sugar, salt, vanilla, melted butter, and arrowroot in a medium bowl. Stir to combine until apples are evenly coated.

Crack the egg into a small bowl and add the water. Whisk until the egg is frothy and set aside.

Once chilled, remove the pie dough from the refrigerator. Sprinkle about 1 1/2 tsp's of cheddar cheese in the center of 5 of the dough circles. Spoon 2 Tbsp's of chopped apples on top of the cheese in a single layer, making sure to leave an edge along the perimeter. Sprinkle another 1 1/2 tsp's of cheese on top of the apples.

Brush the perimeter of the 5 apple-topped dough circles with the egg wash. Using a sharp knife, slice 2 air vents in the 5 remaining pie dough circles. Place the vented pie dough circles on top of the apple covered circles and use your fingers to gently press the dough together along the perimeter. Seal the pie dough by using the tines of a fork to crimp the edges and press together.

Brush the tops and edges of each pie with the egg wash and sprinkle the sugar across the top. Bake hand pies for 15 minutes or until golden, rotating the baking pan halfway through cooking time.

Remove the baking pan from the oven and transfer hand pies to a cooling rack. Enjoy hand pies warm, but cool enough to handle.
Notes
If the idea of cheese and apples in a pie seems a bit too out there for you, just skip the cheese and the hand pies will be just as delicious. This recipe can easily be doubled to make 10 hand pies.