Have you ever eaten something so incredibly delicious and memorable that you can't get it out of your head? A year ago, I know this because it was peach season, we went to dinner at a local restaurant and despite being stuffed, our server convinced us to order dessert. We don't typically order dessert.  Often times because we overdo it on starters and entrees, by the time the dessert menu is placed on the table, we've tapped out. Our server highly recommended the peach cobbler because it was seasonal, and therefore it was on the menu for a limited time.
Peach cobbler's not typically my dessert of choice. There's nothing wrong with it, but I guess I figure that if I'm going to order dessert, then it's going to be something unique, or a bit fancy. Because our server spoke so highly of the peach cobbler and used words like "limited time", we were sold. The peach cobbler was amazing. For the past year, this dessert will randomly pop up in my thoughts, and I think I've known all along that I wanted to recreate it. And here we are, a year later. Peak peach season.
What made this peach cobbler different from any other cobbler I've had, is that the topping was made with cornmeal. The cornmeal balanced the sweetness of the peach filling perfectly, and it's what's made this dessert stand out in my brain. It's hard to recall every aspect of something you ate a year ago, especially when it's something you've built up in your mind. With that being said, this cornbread peach cobbler is delicious. The inside is filled with fresh, seasonal peaches tossed in sugar, and the topping is like a sweetened cornbread that gets crispy on the outside, yet nice and soft in the middle from the peaches.
Peach season is short, so take advantage and bake all of the pies and cobbler's you can eat. Share the rest.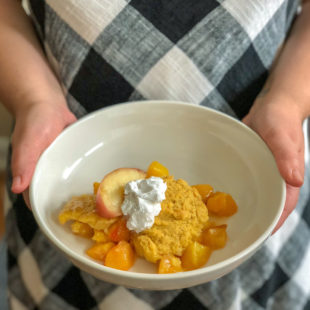 Cornbread Peach Cobbler with Coconut Whipped Cream
A traditional peach cobbler made in the peak of peach season, combined with a cornbread topping, and served with homemade coconut whipped cream.
Ingredients
Cobbler:
3/4

c.

cornmeal, fine ground

1/2

c.

unbleached all-purpose flour

1/4

c.

light brown sugar

1

tsp.

baking powder

1/4

tsp.

baking soda

1/4

tsp.

sea salt

1

egg

1/3

c.

buttermilk, room temperature

3

Tbsp.

coconut oil melted, but not hot.

4

c.

peaches, peeled, sliced and cut into bite-sized pieces

1

Tbsp

arrowroot or cornstarch

1/3

c.

granulated sugar

zest

from 1 lemon
Coconut Whipped Cream:
1

14 oz.

can full fat coconut milk, refrigerated overnight

1/2

vanilla bean, seeds scrapped out

1/2

tsp.

pure maple syrup
Instructions
Preheat oven to 375F. If using a tart pan with a removable bottom, either cover the outside with aluminum foil or line the pan with parchment paper.

Combine cornmeal, flour, sugar, baking powder, baking soda and salt in a medium bowl.

Make a well in the center of the dry ingredients, crack the egg into the well and whisk, lightly. Add coconut oil and buttermilk to the egg, whisk together.

Combine wet and dry ingredients in the bowl and stir just until combined.

In a medium bowl combine peaches, arrowroot, sugar, and lemon zest.

Pour the peaches into the prepared pan. Spoon cornmeal mixture on top of the peaches, leaving small areas uncovered for the peaches to bubble up.

Bake for 28 minutes, or until cornbread topping is golden and peaches are bubbly.

To prepare the coconut whipped cream, turn the can of chilled coconut milk upside down and open from the bottom. Discard the liquid in the can and scrape the thick coconut cream into a medium, chilled bowl. Add the vanilla and the maple syrup to the bowl.

Using a hand mixer on medium speed, mix the coconut milk until light and fluffy and peaks form. Keep chilled until ready to use.

Serve peach cobbler warm with a generous spoonful of whipped cream on top.
Notes
It's important that you use a fine ground cornmeal for this recipe. A courser grind will be gritty and throw the texture off. I used an 11" tart pan for this recipe, but I see no reason you couldn't use a baking dish or small Dutch oven. Peaches vary in sweetness, so adjust the amount of sugar added, if needed.