On a recent solo trip to Berlin, I rented a room on Airbnb and stayed in the very modern apartment of a guy named Kuba. What is now a very rare and ideal Airbnb experience, I was sent out every day with a list of things to see and do, courtesy of my host. Rent a bicycle, visit the Mauerpark flea market, have a drink and watch the sunset at Klunkerkranich, eat the best hummus in the world at Zula, etc. I went along with all of Kuba's tips and advice, advice that lead me to fall in love with Berlin, but when it came to the hummus I was hesitant.
Best hummus in the world? For years I was vegetarian and for even longer I was vegan, so I've had my fair share of hummus. I, therefore, had a difficult time believing that THIS hummus was going to surpass all the others that I've tasted.
I travel to eat, and yet somehow every day, I find myself starving in the late afternoon. The sugar filled pastries I eat for breakfast when traveling may be delicious, but even they can't keep me full for 7 hours.  After spending one of my final day's in Berlin riding my bike around the city, I showed up at Zula starving, and ready to give this "world's greatest hummus" a try. And here's the thing, Kuba was right. It was amazing and more than anything, I wished I had tried it sooner, as 8 months later I'm still thinking about it.
Up until my life-changing hummus experience in Berlin, I have always labeled hummus as a snack or an appetizer, but definitely not a meal. Sure I've had it as a meal alongside a bowl of soup, thrown a spoonful of it on top of a salad, and enjoyed it with falafel, but eating hummus for dinner was a new concept. The hummus I ate in Berlin was so incredibly good, that nothing else was needed with it, nothing other than warm pita and pickled vegetables.
With this recipe, I aimed to not only create an incredibly delicious and smooth hummus but to also make a meal where it's the star of the plate. Topped with a harissa-dressed mixed green salad, both pickled as well as fresh vegetables, olives, pita chips, feta, and a drizzle of tahini. I've always loved Middle Eastern and Mediterranean flavors, and I think a lot of that is due to the addition of tangy, pickled vegetables that wake up your taste buds -an element I love to add to my recipes.
If you find yourself in Berlin, make sure to try the hummus at Zula and definitely let me know what you think!
I wanted to give a giant thank you to Sheryl from Mountain Oak Pottery for creating this gorgeous plate you see in these photos. Grateful is an understatement. She makes beautiful pieces and I'm forever amazed at how skilled and talented some people are.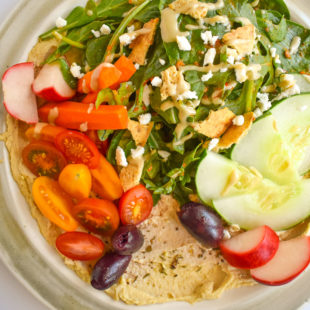 Hummus for Dinner
More than just a snack, a really delicious hummus can be made into a meal. Served with both fresh and pickled veggies, olives, salad greens tossed in a harissa dressing, pita chips, feta, and a drizzle of tahini.
Ingredients
Hummus
2

garlic cloves, peeled

1

14 oz

can of chickpeas, drained and rinsed, liquid reserved, skin removed

1/4

cup + 1 Tbsp

tahini

2

Tbsp

olive oil

2

Tbsp

lemon juice

2

Tbsp

reserved liquid from can, or water

1/8

tsp

cayenne pepper

1/4

tsp + pinch

sea salt
Pickled Vegetables
2

carrots, peeled and cut into 1/2" sticks

4

radishes, trimmed and quartered

1/2

cup

apple cider vinegar

1/2

cup

water

2

tsp

agave syrup

1

tsp

kosher salt
Harissa Dressing
2

Tbsp

harissa

2

Tbsp

olive oil

1

Tbsp

lemon juice

1/2

shallot, finely chopped

1/8

tsp

sea salt

1/8

tsp

red pepper flakes (optional)
For serving
za'atar

2

handfuls

mixed greens

1/4

cup

kalamata olives, pitted

1/2

cucumber, sliced thin

1/2

pint

cherry tomatoes, halved

pita chips or crackers, crushed

feta cheese, crumbled

tahini
Instructions
Start by preparing the hummus, add the garlic cloves to the bowl of a food processor and process for 20 seconds, or until finely chopped. Add the chickpeas to the bowl and process until no whole beans remain and chickpeas appear shredded.

Add the remaining 6 hummus ingredients to the food processor, and run until smooth, stopping occasionally to scrape down the sides of the bowl. If the mixture is too thick, add a bit more of the reserved liquid, 1 tsp. at a time. Taste for salt and lemon.

For the pickled vegetables, mix together the apple cider vinegar, water, agave, and salt in a jar. Add the carrot sticks and the radishes. Give the jar a good shake to combine and store in the fridge until ready to use.

To prepare the harissa dressing, combine all ingredients in a blender or food processor and run until blended together. Store in the fridge until ready to use.

For serving, spread hummus on 2 plates and sprinkle with za'atar. In a medium bowl, toss the salad greens with the harissa dressing and spread greens on top of the hummus. Divide the olives, cucumber slices, tomatoes, as well as the pickled veggies between the two plates. Top both of the plates with the crushed pita chips, a generous sprinkle of feta cheese, and a drizzle of tahini.
Notes
It's optional to remove the skin from each and every chickpea and I know that doing so is beyond tedious, but I swear that removing the skin, as well as using reserved liquid from the can will make your hummus incredibly smooth. Harissa varies in spice, so if your jar is super spicy, consider not adding the red pepper flakes to the dressing. The pickled vegetables are a quick-pickle that will keep in the fridge for 1-2 days without preserving or canning.