Despite it being one of the trendiest foods of all time, avocado toast is one of my very favorite things. I could eat it every single morning, even if that meant never eating a warm bowl of oatmeal or drinking a cold, refreshing smoothie again. By now, you all know that I far prefer a savory breakfast over a sweet one. There's just something about creamy avocado mashed with tart lemon juice and spread across perfectly toasted bread that I can't get enough of. Maybe it's because I love it so much, but I wanted to create a recipe using the same avocado toast, but mixing it up a bit. Making it a bit more versatile. So I took the avocado toast that I love, and I turned it into a salad.
I believe a great salad should be messy and packed full of toppings. I prefer to eat my salads in a mixing bowl, this one especially, so all the ingredients are well combined and the toast soaks up the dressing and the hot sauce. For this recipe, I used both romaine and arugula because I like the crunch from the romaine combined with the peppery arugula. Some of my favorite summer veggies are piled on top, and while I didn't plan on using cucumber my garden is producing more than I can handle. And cucumber's never a bad idea.
I've seen numerous variations of avocado toast served at restaurants. Cheese is often sprinkled on the avocado, maybe there will be peppery greens or fresh tomatoes mounded on top, and pickled onions may even make an appearance. While I have my own avocado toast recipe that I make nearly every weekend, this salad is inspired by the many variations I've seen.
Arugula and romaine are combined and tossed in a mustard vinaigrette, seasonal cherry tomatoes, cucumbers, and pickled onions top the salad, along with smoky chickpeas, and bite-sized squares of avocado mash on sourdough toast. Garnish the salad with freshly grated cotija cheese and a generous squeeze of sriracha.
This salad is perfect for a hot, July day when you have zero desire to turn on the oven.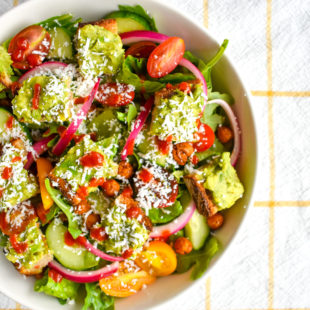 Avocado Toast Salad
Avocado toast, but in the form of a salad. Toasted bread spread with lemony avocado mash and cut into squares top a mixed green salad, along with pickled onions, smoky chickpeas, cotija cheese, and a mustard vinaigrette. And don't forget the hot sauce!
Ingredients
Pickled Onions
2

tsp

agave syrup

1

tsp

kosher salt

1/3

cup

apple cider vinegar

1/3

cup

water

1/2

red onion, thinly sliced
Smoky Chickpeas
1

tsp

olive oil

1

15 oz can

chickpeas, drained and rinsed, patted dry or 1 1/2 cups cooked chickpeas

1

tsp

smoked paprika

1/8

tsp

salt

1

Tbsp

tamari, or soy sauce
Avocado Toast
1

avocado

2

tsp

lemon juice

pinch each

sea salt, black pepper

2

slices of bread, sourdough preferred
Mustard Vinaigrette
1

Tbsp

shallot, minced

1

Tbsp

dijon mustard

1 1/2

tsp

honey

2

Tbsp

white wine vinegar

1

Tbsp

olive oil

1/4

tsp

sea salt

1/4

tsp

black pepper
Salad
1

head

romaine lettuce, chopped

2

oz

arugula

8

oz

cherry tomatoes, halved

1/2

cucumber, sliced and cut into half moons
Instructions
Let's start by pickling the onion, mix together the agave, salt, vinegar, and water in a jar. Add onion and give the jar a good shake. Store in the fridge while preparing the rest of the salad.

To make the chickpeas, in a medium pan heat olive oil over medium heat. Once hot, add the chickpeas and cook, stirring often, until golden. Stir in the paprika and the salt. Toss the chickpeas until evenly seasoned and spices are aromatic. Turn off the heat and quickly stir in the tamari. Set aside.

For the avocado toast, combine avocado, lemon juice, salt, and pepper in a bowl. Mash avocado mixture until smooth. Taste for salt and lemon juice, add more as needed.

Toast bread in a toaster oven until golden. Spread avocado mash on top of the bread and cut into bite-sized squares.

Add all dressing ingredients into a bowl and whisk together. Taste for salt.

Combine the romaine lettuce and the arugula in a medium bowl and toss with the mustard vinaigrette.

To serve, add dressed greens to wide salad bowls and top with the cherry tomatoes, cucumber slices, pickled onions, smoky chickpeas, and the avocado toast squares. Top salads with grated cotija cheese and sriracha.
Notes
The longer the onions are left to pickle, the more pickled they will be. If you can remember to make them earlier in the day, do it, but they'll be fine either way.