I wake up every day thinking about food, specifically what I'm going to eat for breakfast. Only rarely does my alarm go off and my first thought is of fluffy carbohydrates, covered and dripping in syrup. I seize those mornings, and throw together a batch of pancakes or waffles, but never french toast, because who has a loaf of brioche lying around? The remaining 360 days of the year, when I roll over first thing in the morning to turn off the horrendous radio show I wake up to, my brain and my stomach are already craving something savory.
I'm not a believer that breakfast has to be limited to things like bacon and eggs, a bowl of cereal, or a Starbucks muffin. Or maybe these are just the words of someone who's been known to eat a kale salad first thing in the morning, or quite regularly pairs eggs with a giant pile of charred broccoli. My definition of breakfast is pretty lenient: eat foods that sound good.
There's a chance that this recipe will get a very polarizing response, but it's quite honestly the breakfast of my dreams. Creamy grits, a tangy, fresh tomato salad, and greens all piled into a bowl and topped with avocado and a perfectly cooked fried egg. Obviously, this is not your Monday morning breakfast that you're trying to get on the table while packing lunches and ironing a shirt. This recipe is made for slow weekends when you not only have the time to create these bowls, but also the time to enjoy them. But before you get overwhelmed: the entire recipe comes together quite quickly; in the time it takes the cornmeal to thicken, you can throw together the tomato salad, steam the greens, and fry the eggs.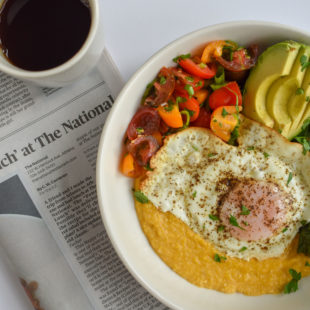 Savory Summer Breakfast Bowls
A savory breakfast bowl using seasonal summer veggies, creamy grits, avocado, and a perfectly fried egg on top.
Ingredients
Grits:
3

c.

vegetable broth

1/2

tsp.

salt

1/2

c.

cornmeal

1/4

c.

heavy cream
Tomato Salad:
1

c.

cherry tomatoes (a mix of colors, if possible), quartered

2

Tbsp.

flat leaf parsley, chopped

2

scallions, ends trimmed, sliced at a deep angle

1

Tbsp.

red wine vinegar

1

pinch

each salt, pepper

drizzle

extra virgin olive oil
Greens:
1

bunch

swiss chard, ribs removed and roughly chopped

1

pinch

each salt, pepper

squeeze

lemon juice
Eggs:
1

Tbsp.

butter

2

eggs

1

pinch

each salt, pepper
Toppings:
1

avocado, sliced

1

Tbsp.

flat leaf parsley, chopped
Instructions
Soak scallions in a bowl of ice water.

For the grits, bring 2 cups of the vegetable broth and the salt to a boil in a medium-size pot. Once boiling, slowly add in the cornmeal, whisking to avoid getting clumps. Lower heat to medium-low and continue whisking until cornmeal is absorbed about 5 minutes. Add in the remaining 1 cup of vegetable broth and simmer, whisking occasionally, until thickened and pulling away from the sides of the pot about 20 minutes. Once thickened, stir in the heavy cream and simmer another 5 minutes, taste for salt and season, if needed.

Meanwhile, place a steaming basket in a medium pan filled with 1" of water. Add chard to steaming basket and bring water to a boil. Allow chard to steam for about 5 minutes. Season with salt, pepper, and lemon juice.

Heat a medium pan over medium heat and once hot, add the butter. Once the butter has melted, crack the two eggs into the pan, one at a time, spaced apart, and season with salt and pepper. Cook eggs until the white is set, yolk still runny, about 3-4 minutes.

Drain the scallions and pat dry. Combine tomatoes, parsley, scallions, vinegar, salt, pepper, and a drizzle of olive oil.

To serve: Place the grits, steamed chard, and tomato salad alongside each other in a wide bowl. Top with the egg and avocado. Garnish with parsley.
Notes
Soaking the scallions in ice water takes away a good bit of the bite from the raw onion. To make dairy free, sub cashew cream for the heavy cream in the grits. If you don't have a steaming basket, you can steam chard in a small pot- fill with 1" of water, along with the chard. Cover and steam 5 minutes.