While preparing dinner recently, I was listening to this episode of the Radio Cherry Bombe podcast with guest Jessamyn Rodriguez from Hot Bread Kitchen. About 14 minutes into the podcast, the women on the show started raving about this amazing sauce that they couldn't get enough of.  At this point, I've stopped making dinner and I'm searching the internet for more information on this sauce and where I can get my hands on it. After a bit of research and social media sleuthing, I discover this raved-about-sauce to be Basbaas Sauce made by Hawa Hassan, and I immediately placed an order for one of each of her 2 Somali sauces.
Hawa Hassan is a Somali refugee who escaped Somalia's civil war with her mother and siblings by moving to a UN refugee camp in Kenya. She moved on her own to Seattle in 1993 at the age of 7, attended college in Washington state, starting her modeling career, and moved east to New York. After 15 years apart from her family, Hawa reunited with her mother and siblings in Oslo, Norway and this is where the idea for Basbaas sauces was born. She turned the sauces she was blending every night for her family, sauces that are eaten daily in Somalia, into a business. In a recent article in Vogue Hawa says, "… I wanted to start a different kind of conversation—a positive one—about being Somali. What could be a better way to do that than through food?"
Basbaas, meaning chili in Somali, is the only Somali line of sauces and chutney's available in the United States. Both sauces in the Basbaas line-up are incredibly delicious, yet very different in flavor, texture, and use. The tamarind date sauce is a bit sweeter and a bit smoky with a hint of spice, while the coconut cilantro chutney is more acidic and creamy with a bit more heat. When my Basbaas order arrived, Chris and I stood in the kitchen taste testing each with a spoon, repeatedly going back for more before finally having to cut ourselves off, knowing that I wanted to cook with them.
Over the last month, I've used the tamarind date sauce in place of ketchup for my fries, and over July 4th I substituted it for the bbq sauce in my favorite veggie burgers. As for the coconut cilantro chutney, well, it may be my favorite of the two; I've used it in curries and I'm excited to marinate veggies with it. My only complaint is that the jars, handcrafted in small batches, could be double in size and we'd still be scraping the bottom of them.
I wanted to create a recipe centered around the Basbaas Coconut Cilantro Chutney, something that complimented the flavors and really made it stand out. These spicy green rice bowls with roasted cauliflower are bright and packed with flavor, as well as a good bit of heat. I love how everything came together in a bowl with the cashews adding the perfect crunch. The sauce is incredible and I can see myself using it on just about everything, so if you don't have time to make the entire recipe, definitely dive into the spicy green sauce.
Read more about Hawa and Basbaas here.
Buy Basbaas here.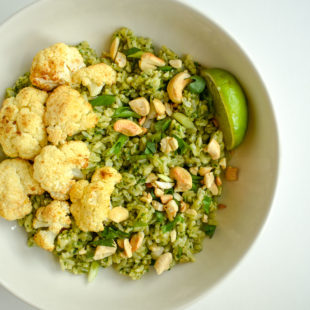 Spicy Green Rice Bowls with Roasted Cauliflower
Brown rice tossed in a spicy herb-flecked green sauce made with Basbaas Coconut Cilantro Chutney, topped with roasted cauliflower and garnished with toasted cashews and fresh herbs.
Ingredients
Spicy Green Rice
2

cloves

garlic, peeled

1

cup

cilantro leaves

1/2

cup

flat-leaf parsley leaves

2

jalapeños

2

Tbsp

Basbaas Coconut Cilantro Chutney

1

tsp

lime juice

pinch

sea salt

1/8

cup

olive oil

3

cups

cooked brown rice
Roasted Cauliflower
1

medium head cauliflower, cut into florets

1

Tbsp

olive oil

1/2

tsp

coriander

1/4

tsp

garlic powder

1/8

tsp

cayenne pepper

1/4

tsp

sea salt
Cashews
3/4

cup

raw, unsalted cashews

1/2

tsp

olive oil

pinch

sea salt
Toppings
2

green onions, sliced thin

1/4

cup

cilantro, chopped

lime wedges
Instructions
Preheat oven to 475 degrees F and line a baking pan with parchment paper. Set prepared pan aside.

Once the oven is hot, place jalapeños directly on the oven rack and roast, turning every 3-5 minutes for about 15 minutes. You want the skins to blacken and blister.

Once jalapeños are blistered, remove from the oven and place in a bowl. Cover with plastic wrap and let the jalapeños steam for 15 minutes. This will make removing the skins far easier.

While jalapeños are steaming, prepare the roasted cauliflower. Decrease oven temperature to 375 degrees F. In a large bowl toss and combine cauliflower with olive oil, coriander, garlic powder, cayenne, and salt. Lay cauliflower in a single layer on the prepared baking pan. Roast for 36 minutes, stirring halfway.

Once jalapeños are done steaming, remove and discard the skins. Slice off and throw away the tops of each jalapeno, cut lengthwise and seed, if desired.

To make the sauce, put garlic cloves in the bowl of a food processor. Pulse until garlic is finely chopped. Add cilantro, parsley, jalapeños, Basbaas sauce, lime juice, and salt. Pulse food processor until ingredients are combined, stopping to scrape down the sides of the bowl, as needed.

While the food processor is running, stream in olive oil and let run until ingredients are well combined and only flecks of herbs remain. Taste for salt. Set aside.

In a small pan over medium heat, dry toast the cashews stirring them often, until golden and fragrant, about 5-8 minutes. Remove from heat.

Once you can handle the cashews, chop roughly leaving some whole. In a medium bowl combine cashews with olive oil and sea salt and toss until nuts are well coated.

To serve, in a large bowl combine cooked rice with the spicy green herb sauce, coating rice well. Dish rice out into wide bowls and top with roasted cauliflower and cashews. Garnish bowls with green onion, cilantro, and lime wedges.
Notes
I prefer to roast and salt my nuts so I can better control the salt in a dish, but if you already have roasted, salted cashews on hand, you can use those, you may just have to decrease the salt elsewhere. For the jalapeños, I seeded one and left the other one and the dish was perfectly spicy for my personal taste.  Remember that you can always add more spice, but you can't take it away.