This post may contain affiliate links. Please read my disclosure for more info.
There seem to be two kinds of people: those who can create an incredible meal off of the top of their heads, and those who live and die by following a recipe step-by-step. I always considered myself to be in the latter group, which makes sense coming from a recovering type-a control freak.  After years of following recipes and never deviating from the steps in front of me, I now find myself in the gray area between both groups, and maybe leaning towards the former.
The combination of hoarding cookbooks, and actually cooking out of them, as well as always trying to use up leftover ingredients has me creating and trying new things in the kitchen. Over time I've started to better understand flavor profiles and I've gained a bank of knowledge and experience from simply making food, day after day.
Everyone should have a go-to meal; something that's simple, uses ingredients you almost always have on hand, and feels just a tiny bit fancy.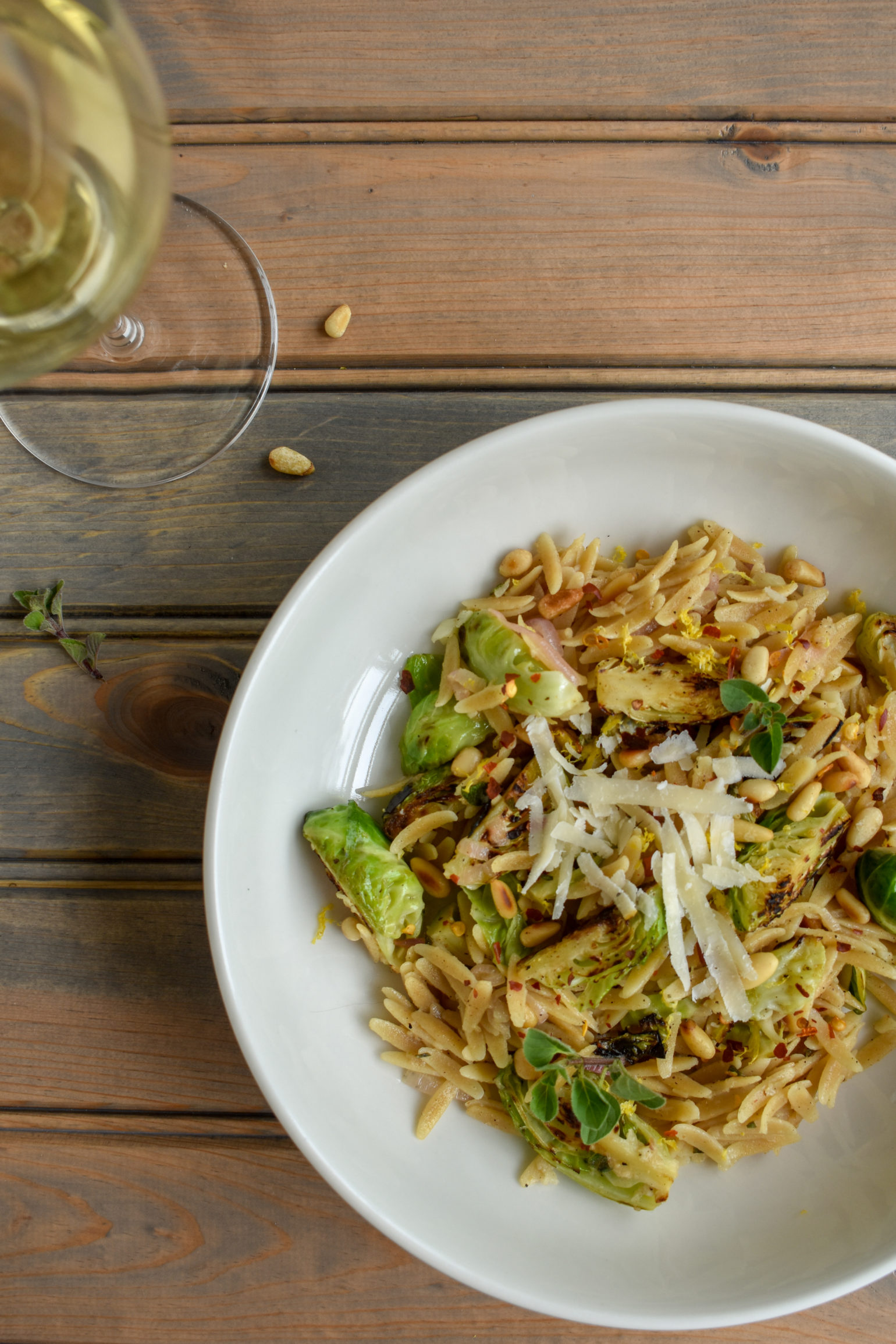 Our go-to meal that I could eat every single week requires the following:
1. Lemon
2. White wine
3. Green veggie
4. Breadcrumbs
I try to use broccoli or brussels sprouts as they hold their structure well, and that tends to be what I have rolling around in the fridge. Sometimes I have day-old bread on the counter and I'll pulse that in the food processor, but otherwise, I grab breadcrumbs from the back of the cabinet. While I do wish I were one of those people who always has a bottle of wine to cook with (and drink), I am not and this is the one ingredient I have to make sure to grab. Everything else can easily be adapted to your pantry and to what's in season.

Lemon Orzo and Charred Brussels Sprouts in White Wine
A simple, throw-together dinner of orzo tossed with lemon and white wine and charred Brussels sprouts. This meal is bright, fresh, and made from ingredients you already have in your pantry.
Ingredients
2/3

c.

dried orzo

2

Tbsp.

extra virgin olive oil, divided

1/2

c.

shallots, thinly sliced

2

cloves

garlic, minced

2

Tbsp.

breadcrumbs

1

Tbsp.

fresh herbs, thyme or oregano, chopped

1/4

c.

white wine

1/2

c.

vegetable broth

1/2

lemon, squeezed

8

oz.

brussels sprouts, trimmed and quartered

pinch

each sea salt, black pepper

1/8

c.

water

toppings:

red pepper flakes, toasted pine nuts, chopped fresh herbs, lemon zest, freshly grated parmesan
Instructions
Bring a pot of water to a boil and cook orzo according to package instructions.

In a large skillet, heat 1 TBSP of olive oil over medium heat. Saute the shallots with a pinch of salt until translucent. Add the garlic and saute for 30 seconds.

Mix the breadcrumbs in with the shallots and stir, letting the breadcrumbs toast until golden. Stir in the herbs.

Add the wine and the vegetable broth to the skillet and bring to a simmer. Turn heat down to low and let simmer for approximately 5 minutes. If the mixture dries out, add a bit more broth.

Meanwhile, in a medium cast iron skillet, heat the remaining 1 TBSP of olive oil over medium-high. Once the oil is hot, carefully add the brussels sprouts, a pinch of salt, and a generous grind of black pepper. Stir the brussels sprouts often, but you want them to get a bit of char on them. Once the brussels sprouts are nicely charred, carefully add the water and immediately put a cover on the pan. Allow to steam for 1 minute.

Add the lemon juice into the shallot mixture just before mixing in the orzo, as well as the brussels sprouts. Stir to combine and cook over low just until heated through. Season with salt and pepper, to taste.

Serve with desired toppings.