I initially created this fall oatmeal recipe when the idea of starting a blog was just beginning to take shape in my mind. This was the first recipe I made where I diligently took notes as I cooked; scribbling out measurements as I made adjustments and making messy notes off to the side, only legible to my eyes. A year ago I created and enjoyed this recipe for cardamom pear oatmeal and I know this because, similarly to right now, I had the same longing for fall. I also know it was a year ago from the notes written alongside the recipe, a travel itinerary for a trip we took to Europe around this time last year. This bowl of oatmeal is like a comforting welcome to fall and the perfect breakfast to cook up on a chilly morning, coffee in hand.
This post may contain affiliate links. Please read my disclosure for more info.
I've always considered myself to be an organized person. I thrive off of checking things off of a to-do list and always having a plan in place. As I've created this blog, I've found that the easiest way for me to store my thoughts, ideas, and recipes is not to use an app on my phone or an editorial calendar, but instead to collect everything in a simple ruled notebook. To say the least, it's a mess. We'll call it organized chaos. Other than a daily list of things I need to get done, every other page of the notebook is a brain dump of recipes I think of and want to create, post ideas, an ever-changing post schedule, as well as other life things that may or may not have anything to do with this website. Despite its pages only making sense to me, that little notebook is the starting point for everything I write, cook, and create that ends up on here. And of course, this simple belly-warming fall oatmeal recipe was the start of it all.
In general, I tend to eat pretty seasonally. I reserve hearty soups and stews that simmer away on the stove all day for cooler weather, while I crave salads, smoothies, and cold foods all summer long. Oatmeal is one of the few foods that, regardless of the temperature outside, I could enjoy a big warm bowl of every morning. Since making this recipe and since creating I Brought Bread, I've been waiting for fall in order to share this with you all. Technically we still have a few weeks of summer left, but Halloween candy has made an appearance at the grocery store (along with those awful cinnamon brooms) and cooler temperatures are on the horizon.
Made with cinnamon and cardamom, this oatmeal is fall in a bowl. Seasonal pears are chopped and cooked in with the oatmeal to soften, as well as added on top for texture and to enjoy fresh. For me, oatmeal is all about the toppings and I sprinkled cinnamon and coconut on top, along with a drizzle of maple syrup, and a generous spoonful of almond butter. At one point I recall thinking that nut butter on oatmeal was a weird thing (why??), but then I quickly realized that the warm oatmeal makes the nut butter super drippy and delicious. This recipe is easily doubled or more and comes together quickly.
Head to your local farmer's market this week and pick up some pears, as they've just come into season here, and make yourself a big bowl of this oatmeal.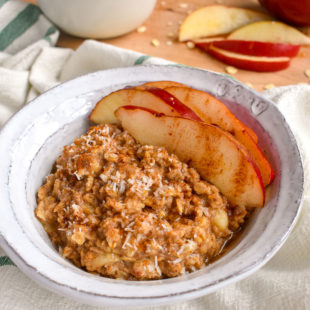 Warming Cardamom Pear Oatmeal
This warm bowl of cardamom pear oatmeal is the perfect cool weather breakfast. Cooked with pears, cinnamon, and cardamom this oatmeal is full of fall spices and incredibly comforting.
Ingredients
1/2

cup

oatmeal

1/2

cup

almond milk, or milk of your choice

1/2

cup

water

1

Tbsp

flax meal

1

pear, peeled and chopped into 1/2" pieces, divided

1/4

tsp

pure vanilla extract

1/2

tsp

ground cinnamon

1/4

tsp

ground cardamom

1/8

tsp

sea salt

1 1/2

tsp

pure maple syrup

1

tsp

fresh lemon juice
Toppings
reserved pear pieces

ground cinnamon

shredded coconut

pure maple syrup
Instructions
In a small saucepan over medium heat, add the oatmeal, almond milk, water, flax meal, half the chopped pears, vanilla, dry spices, salt, and maple syrup. Stir ingredients to combine and bring to a simmer.

Once the oatmeal mixture is bubbling, turn heat down to low. Cook oatmeal until thickened. Just before serving, add the lemon juice and season to taste, extra salt or maple syrup as preferred.

Serve oatmeal in a bowl and top with the reserved pear pieces, ground cinnamon, shredded coconut, a drizzle of pure maple syrup, and a spoonful of almond butter.